Back in August last year we heard that the AMD Project Quantum PC, first demonstrated a couple of months earlier, might never make it to market. Project Quantum was a very attractive concept, marrying dual-Fiji graphics and excellent CPU horsepower in a compact and attractive 'console sized' chassis. However, to make it the best it could be AMD had humbly equipped an Intel Core i7-4790K 'Devil's Canyon' processor. This meant that it would effectively be a 'Concept PC' only, and like a concept car, admitted AMD's Richard Huddy, wouldn't be practical to mass produce and sell.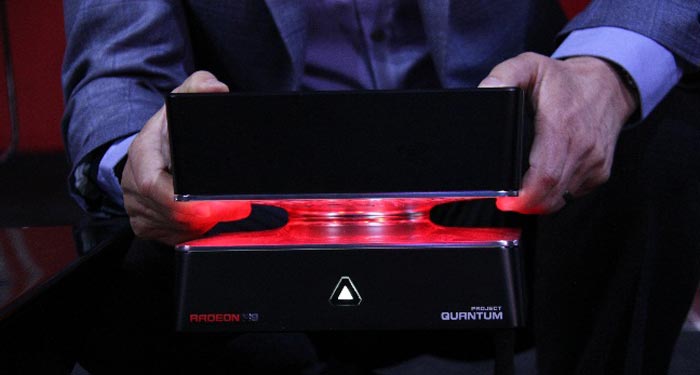 Now it looks like AMD is to rekindle our hopes that there might be a production ready Project Quantum PC in the making. A recent report by a Czech tech publication, Diit.cz via WCCFTech, says that AMD's Project Quantum was simply shelved for two reasons. These roadblocks may soon be cleared away:
First, an "internal decision to market the Radeon Duo Pro, not as a purely gaming product, but as a professional high performance solution".
Second; "The lack of a high performance AMD CPU and Motherboard solution (the original Project Quantum uses an AsRock Motherboard) that could accompany the powerful dual GPU".
It is thought that an upcoming Project Quantum would contain the following core components; an AMD Zen CPU, and a next-gen Vega GPU with HBM2. Looking at AMD roadmaps a retail ready Project Quantum will therefore be quite a few months away from being realised – yet it remains an exciting project. It could indeed be a great ready-made system for 4K and VR pursuits or as a reference design to drive new form factors.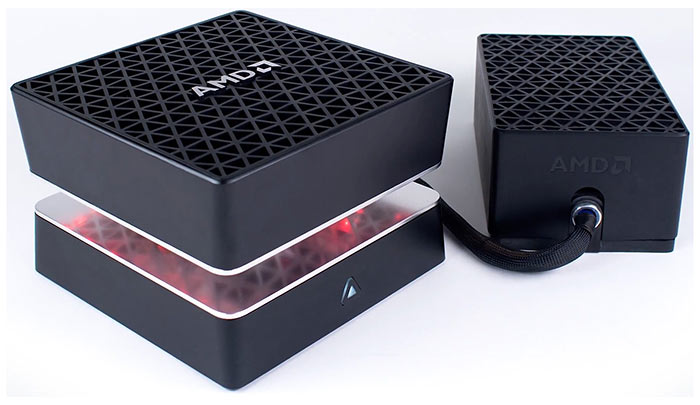 AMD optimism
In other recent AMD news: shares skyrocketed at the end of last week as AMD announced it will build custom x86 enterprise CPUs for the Chinese government, providing finished solutions as well as licensing IP. Furthermore, the firm teased that it will make processors for three new consoles which are thought to include the PS4K and Nintendo NX.