We first saw the Google/ASUS Chromebit back in March. At the same time Google announced a range of new Chrome devices, mostly clamshell laptops, and new manufacturing partners, to expand the reach of Chrome OS. Today the Chromebit has become available, at least in the USA, I can't find it available in the Google Play Store devices section in the UK as yet.
The Chromebit is one of the increasingly familiar HDMI stick form factor computers. On HEXUS we have covered news of various HDMI-stick computers since Intel put its considerable weight behind such devices with its Compute Stick. Check out our review of the Intel Compute Stick STCK1A32WFC, from May this year. Other firms following Intel's lead and making Windows-based computers sticks include Mouse, ASUS, Lenovo and Archos. Updated versions of these sticks are on their way with newer SoCs.
Google's new ChromeOS device isn't just going to be facing competition from the Windows-based HDMI stick computers, there are also shedloads of Android-based HDMI sticks and diminutive boxed from various brands and Chinese white box manufacturers readily available at cutthroat prices. Interestingly there was talk last month about ChromeOS being folded into Android but that would not happen until 2017 or so.
The Google/ASUS Chromebit is priced at $85 in the US. This stick format device with rotatable connector weighs 75g and is being made available in Cacao Black, Sky Blue or Tangerine Orange. A dedicated charger is provided. Inside the processor is a Rockchip SoC, aided by 2GB of RAM, with 32GB of eMMC storage built-in. Users are probably expected to use Bluetooth keyboards/mice to operate the Chromebit but it does have a USB port so it would be possible to add a hub and plug in multiple peripherals.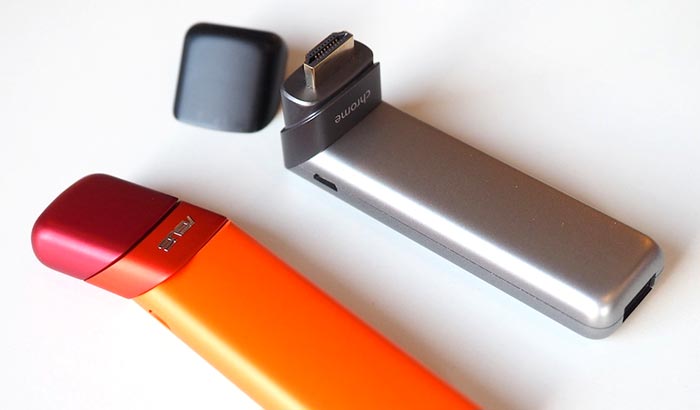 What you then have is a ChromeOS machine, similar in operation to one of the early ChromeBox computers. Rather than add it to your TV for media centre duties, which it is capable of, Google expects buyers to seek out Chromebits to "upgrade" old and slow desktop computers to ChromeOS machines. That might sound reasonable but I have two old monitors, neither of which have HDMI sockets and four old keyboards, none of which have USB (or Bluetooth), and a Wireless mouse which was bundled with my laptop and never used. So I couldn't make a new Chromebit-based computer trivially, but am not sure if my old tech stuff is 'typical'.
US customers might be first to get their hands on the Chromebit, at Amazon, Fry's and Newegg but it is also coming to Australia, Canada, Denmark, Finland, Japan, New Zealand, Norway, Spain, Sweden, Taiwan and the UK.