Intel has started to market its first ever NUC available as a complete, off-the-shelf PC. Previously NUCs were barebone machines for which one would have to source components such as RAM, fixed storage and perhaps most costly of all, an OS and the time required to install it - just to get up and running.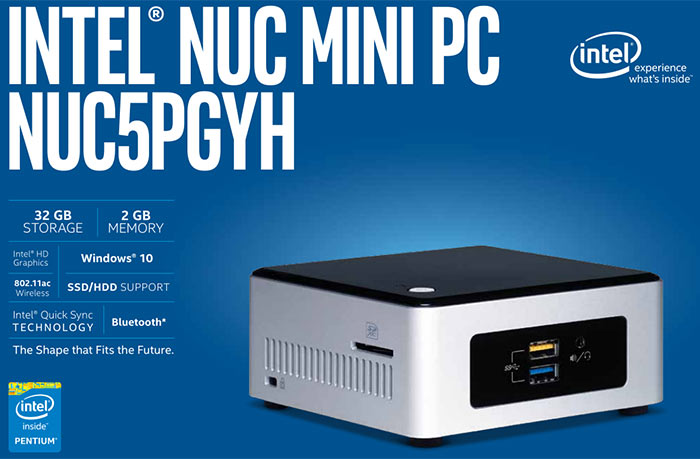 The Intel NUC Mini PC NUC5PGYH is said to offer buyers a "tiny but mighty package," with its quad-core Pentium processor. In brief, Intel has created this mini-PC with the following key components; a 2.4GHz Intel Braswell Pentium processor, 2GB of DDR3 RAM, and 32GB of storage with Windows 10 pre-loaded. Other OS choices such as Android and various Linux flavours are said to be compatible.
Intel's Pentium N3700 has a TDP of 6W and SDP of 4W. It is actively cooled in this NUC using a 'low acoustics' fan. Graphics output is via integrated Intel HD Graphics running at 400MHz with 700MHz burst frequency. For the audio side of your multimedia equation the NUC5PGYH features 8-channel sound output via HDMI or optical cable, as well as simple headphone jack for stereo sound output.
Despite its size, this new NUC PC sports many connectivity options including; HDMI 1.4b, HDB15 VGA port, audio combo jacks front and rear, 2x USB ports on the front and two at the back, 2x internal USB 2.0 headers, internal SATA3 support, SDXC card slot, Infrared sensor, 10/100/1000 wired network, Intel 802.11ac Wi-Fi, Bluetooth 4 and Wireless Display.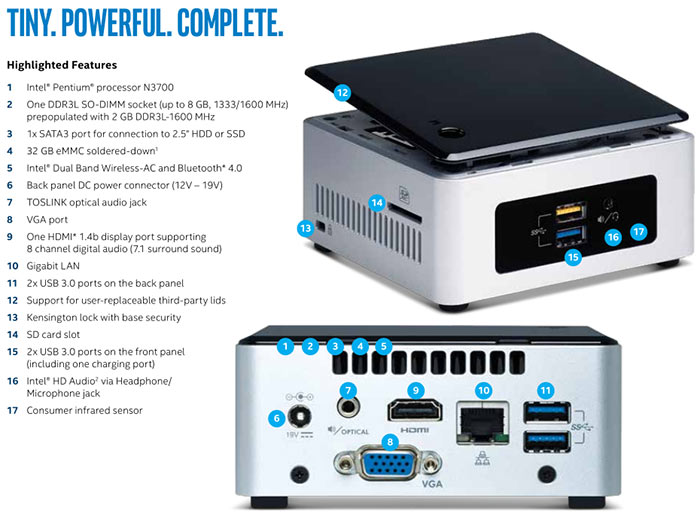 This compact system measures just 115mm x 111mm x 52mm tall. Both the PC and its power supply are wall-mountable, the former using a supplied VESA mount bracket. A 19V, 65W PSU is included with multi-country plugs.
Fanless Tech reports that this complete PC is available now, for $255 at Amazon US.