At an event in Barcelona yesterday HP announced a raft of new premium PCs. Among the devices are tablets, notebooks, 2-in-1s, convertibles and All-in-Ones. The devices that particularly caught my eye were the HP ENVY Curved All-in-One, the HP Pavilion Gaming Notebook and the HP ENVY Note 8 with its small screen but full sized keyboard option.
HP ENVY All-in-Ones
The HP ENVY Curved All-in-One is said to be the "world's widest curved all-in-one PC". It is based around a 34-inch curved screen propped up elegantly with a pair of metallic feet. The speakers at either end of the display, using Bang & Olufsen technology make it look even wider.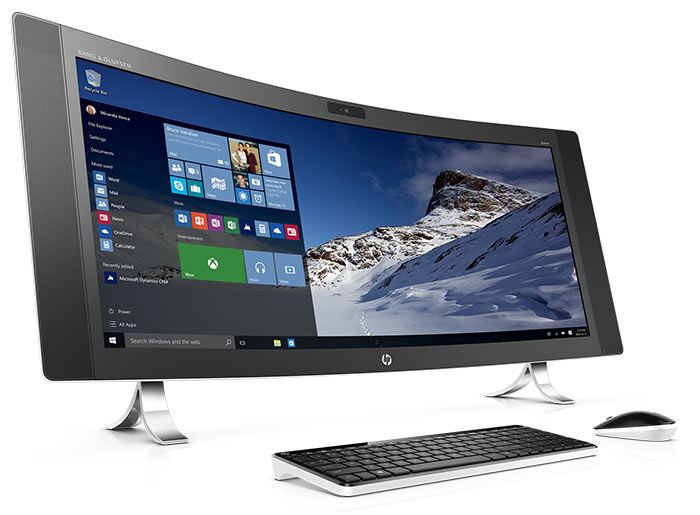 The 34-inch curved screen PC is joined by two further All-in-Ones; the 27- and 24-inch HP ENVY All-in-One PCs. All of these new and updated PCs feature Windows 10, an integrated Windows Hello camera, and B&O audio systems.
If you are interested in the 34-inch HP ENVY Curved All-in-One PC, it is released on 15th November, starting at $1,799.99. The 24- and 27-inch HP ENVY All-in-One PCs debut on earlier on 1st November, for $999.99 and $1,199.99, respectively.
HP notebooks
HP revealed the Pavilion Gaming Notebook which is based around a 15.6-inch display. The guts of the machines include a choice of Intel Core i5 and i7 CPUs and an Nvidia GeForce GTX 950 GPU. Buyers can specify up to 16GB of RAM and fixed storages choices up to a 2TB HDD with 128GB SSD. The notebook features a "reptilian-patterned, back-lit gaming keyboard", is just over an inch thick and weighs in at around 2.5Kg. Availability starts in the US from 8th Nov, priced from $999.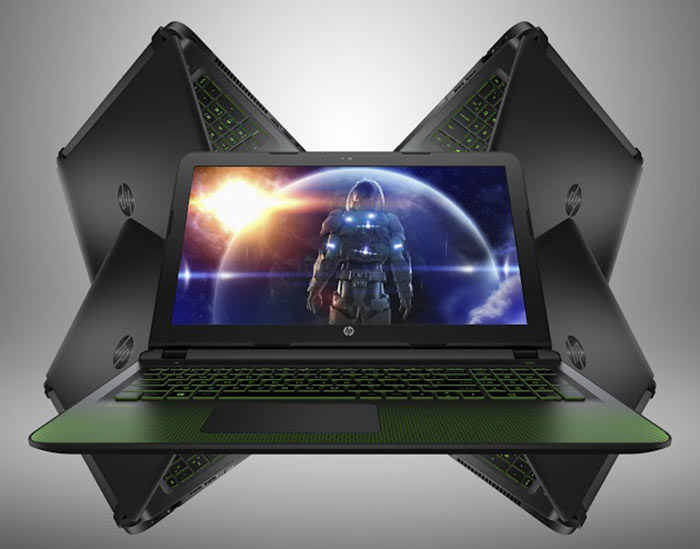 The updated HP Spectre x360 convertible is built with a new ash and silver design, see below. Windows 10 Continuum is said to help users get the best of from this machine whichever mode they wish to work in. It offers 12 hour battery life and can be specified with up to a 512GB SSD. Again it becomes available from 8th Nov, priced from $1299.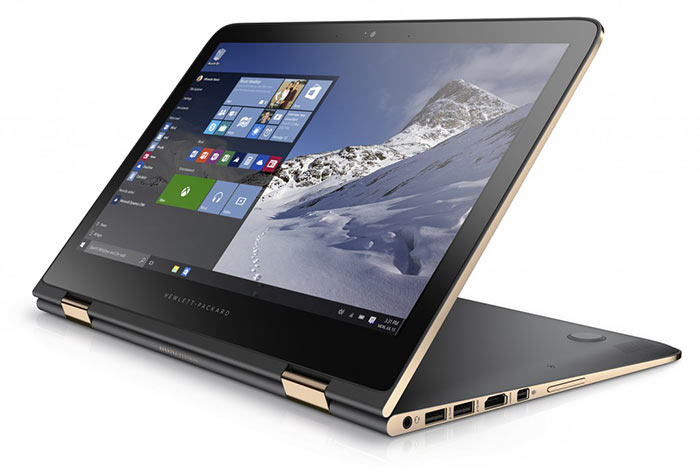 HP's traditional clamshell 13.3-inch Windows 10 notebook, the HP ENVY Notebook, is said to be its thinnest yet. Packing your choice of Intel Core i3, i5, and i7 it measures just under 13mm thick. This Windows 10 notebook should provide ten hours of battery life. Users benefit from a backlit keyboard. Available from 18th October in the US, these notebooks will be priced from $899.
New versions of the colourful and cheap HP Stream 11- and 13-inch notebook PCs have been announced. These are thinner and lighter than ever with increased battery life. HP looks to be targeting Chromebook turf with the HP Stream 11 Pro G2, said to provide "the ideal solution for an upgraded classroom learning experience," with enhanced microphone. HP Stream laptops range in price from $199 to $249 and will become available mid-October.
HP tablets and 2-in-1s
HP's Spectre x2 also uses the ash and silver design. This updated 2-in-1 with "killer metal detachable keyboard," is only 8mm thick and weighs under 900g. With its updated array of three cameras it can take 3D pictures. The Spectre x360 becomes available from 8th Nov, priced from $799.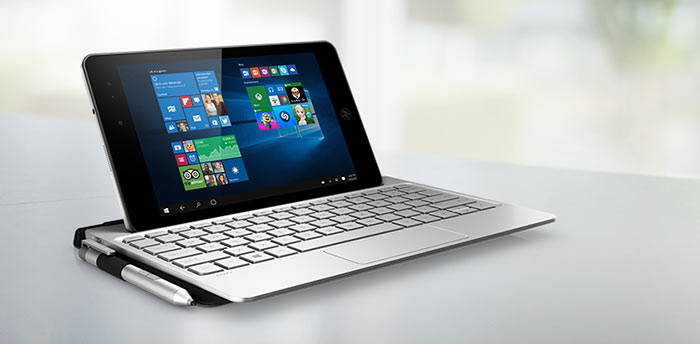 The HP ENVY 8 Note combines an 8-inch, 7.7mm thick, tablet with an almost full sized optional keyboard and stylus. HP has designed this compact tablet to be able to make use of the 10-inch HP ENVY Note Keyboard Folio. The device packs a 1.84 GHz Intel Atom CPU, a 1080p HD display, and built-in high-speed Verizon 4G LTE. It becomes available in the US from 8th Nov, priced at $329 for the tablet alone or $429 as a tablet and folio bundle.
HP Envy 32 Media Display
HP also announced this 32-inch Quad HD display. The ultra-slim monitor features AMD FreeSync technology for smoother gaming. Six front facing speakers power the Bang & Olufsen sound experience. You can connect using DisplayPort, MHL, and HDMI ports. This monitor becomes available in the US from 24th Nov, priced from $499.