MSI has expanded its Nightblade compact PC range with its most condensed offering yet – the Nightblade MI. The original Nightblade PCs and bare bones mini-ITX offerings had dimensions of 345.8 x 277.3 x 175.7 mm and a capacity of 16 litres. MSI's latest Nightblade MI is an immediately noticeably smaller 340.6 x 234.8 x 127.6 mm, with a capacity of 10 litres. HEXUS reviewed the original MSI Nightblade in August last year.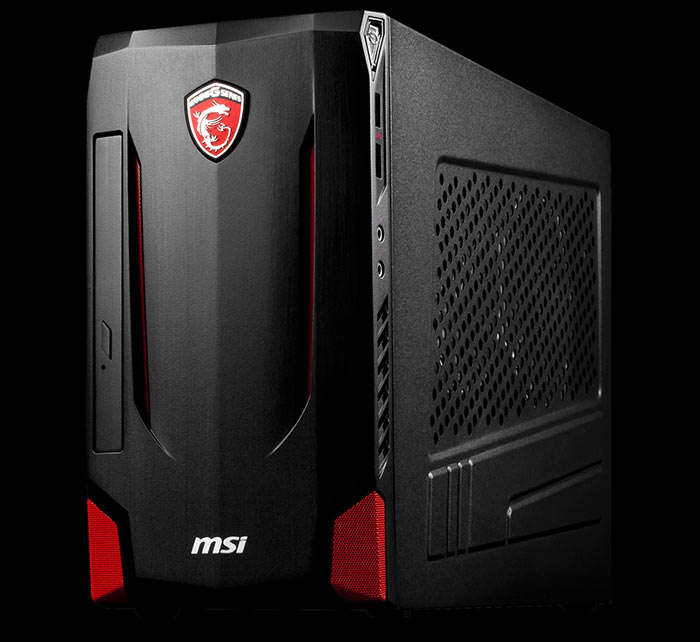 Before today's launch we first saw the MSI Nightblade MI on show at Computex in June. As you can see from the pictures in this article the MI design is quite a departure from the previous Nightblade model stylings, it lacks the lower front LED-lit 'throat', handle, chrome highlights on the front, and top panel access controls and ports. You will find its 2x USB 3.0 and Earphone/Microphone jack round the side. However, despite the style changes and reduction in size, MSI still squeeze an ODD into this new Nightblade.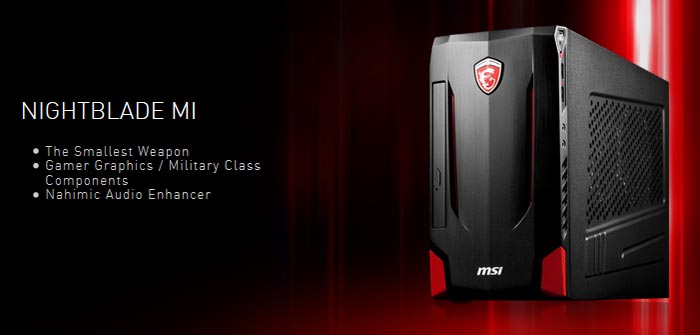 The previous Nightblade models were pre-made and barebone systems which left you to decide the CPU (choice of Haswell CPU) and the GPU. From the press release we have today the Nightblade MI gaming PC appears to have a set configuration. The specs are reproduced below:
Nightblade MI specifications
Processor: Intel 4th gen Core i7 processor
Operating System: Windows 10
Chipset: Intel B85
Graphics: NVIDIA GeForce GTX 960 2GB GDDR5
Memory: Max 16GB dual slots DDR3 Long-DIMM
Storage: 2x 3.5" HDD, 1x 2.5" SSD/HDD
Communication: 802.11 b/g/n/ac Wi-Fi + Bluetooth Wireless Combo
Optical Device: Slim tray Super Multi DVD
Power Supply: 350W Bronze
Dimensions: 127.6 x 234.8 x 340.6 mm (10L)
Connectivity: Side: 2x USB 3.0, Earphone/Microphone jack
Rear: 7 in 1 audio jack, 2x USB 3.0, 4x USB 2.0, 1x RJ45 LAN, 1x HDMI out, 1x Display out, 1x P/S 2
OS: Windows 10, system supports DirectX 12
In further supplied details, MSI crows about the capabilities of the GTX 960 offering "a performance increase of 15% while using 41% less power compared to the previous generation". Nahmic sound technology is equipped to provide high definition virtual 7.1 sound using advanced sound enhancement effects.

With a more confined chassis, cooling possibilities and airflow can be impacted heavily. MSI says that it has implemented 'Silent Storm Cooling' in the Nightblade MI with a heat pipe and sealed fin heatsink in the chassis to help your system remain "perfectly cool and silent during gaming sessions". Smaller systems can be tricky to get into and change components but MSI claims the MI has easy upgrade access to HDD bays, the SSD bay, CPU and graphics card.
The Nightblade MI gaming PC will be available worldwide from the first week of August. Pricing is yet to be revealed.