The maker of the Mini Lego Computer has just published details about a cheaper, smaller Micro Lego Computer. True to the spirit of Lego, the new computer offers modular expansion 'bricks' including an external hard disk and a card reader with USB Hub. The guts of the new computer designs are based upon an Intel NUC and you'll be able to purchase machines based upon 5th gen Intel Core i3, i5 and i7 CPUs.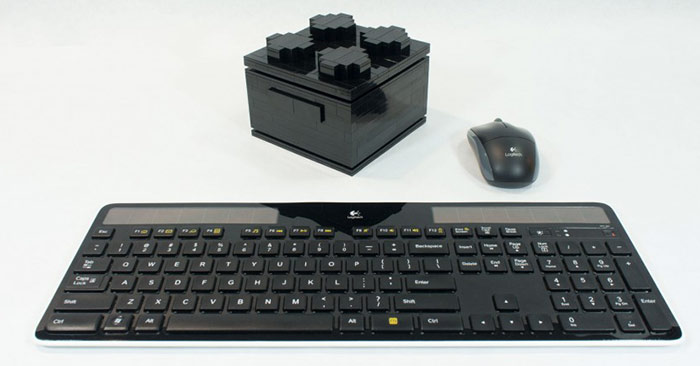 Mike Schropp's Micro Lego Computer measures about 5″ x 5″ x 4″ and is fashioned from Lego bricks to look like an oversized 2x2 brick. This time its not just got a modular appearance, it is modular and expandable in a Lego-fashion. As you can see in the image below Schropp has designed some computer accessories that snap to the computer brick to enhance its abilities. There's a slim stackable 3x2 brick, which is a HDD module, and a full height 2x1 card reader (15 kinds of cards) with USB 3.0 hub brick – in signature Lego blue and red respectively.

As you can see from the specifications chart below, the entry level Micro Lego Computer is priced at $599. It sports an Intel i3-5010U Processor, 4GB of RAM and 120 GB SSD Storage. Next up there is an Intel i5-5250U Processor based version with 8GB of RAM at $729. Then there is the top tier Intel i7-5557U Processor based Micro Lego Computer with 16GB of RAM and Intel Iris 6100 Graphics at $879. A Custom-made version with your choice of parts can also be configured. More case colours and designs are in the pipeline. All versions have a couple of USB 3.0 ports and an audio out port on the front and Mini-HDMI, Mini-Displayport, 2x USB 3.0 Ports, LAN and Power Jack at the rear. They feature wireless connectivity thanks to 802.11ac Wi-Fi and Bluetooth 4.0.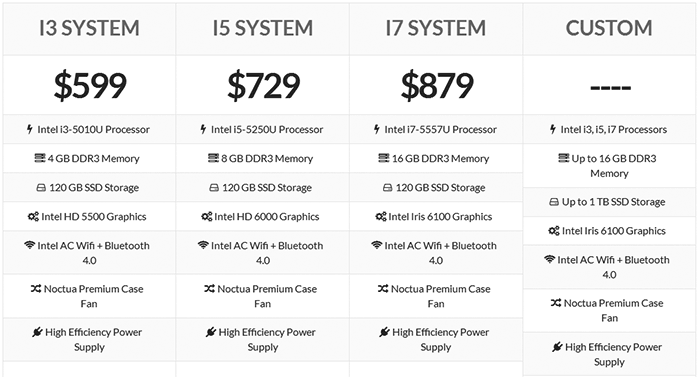 It is notable that Schropp has equipped all these computers with a Noctua Premium Case Fan. The NUCs upon which they are based are fanless designs, according to Liliputing. Lego is a pretty good insulator and there are strategically placed gaps in the case to facilitate airflow.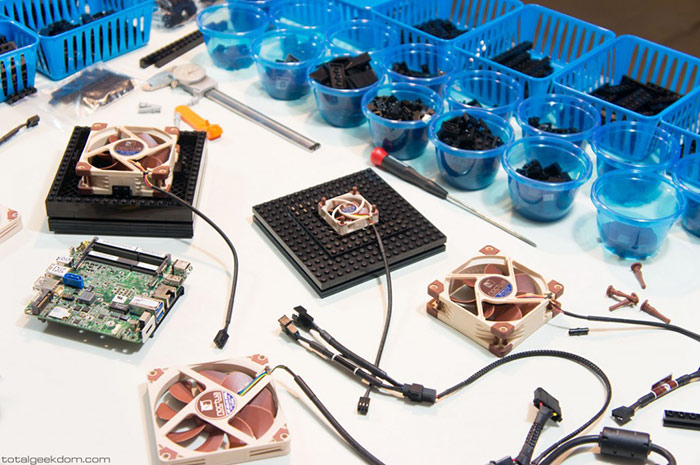 In a blog post detailing how the Micro Lego Computer was designed Schropp says that a gaming version of the Lego Computer is currently in development. He classifies the above NUC-based micro-computers as suitable for 'mild gaming'.