HEXUS reviewed the Intel Compute Stick back in May and since then we have heard of a number of competing products on their way to market. For example, at Computex we heard about the ASUS Pen Stick which will be based around the newer Cherry Trail platform. Now Lenovo had thrown its hat into the ring with a the launch of the Ideacentre Stick 300.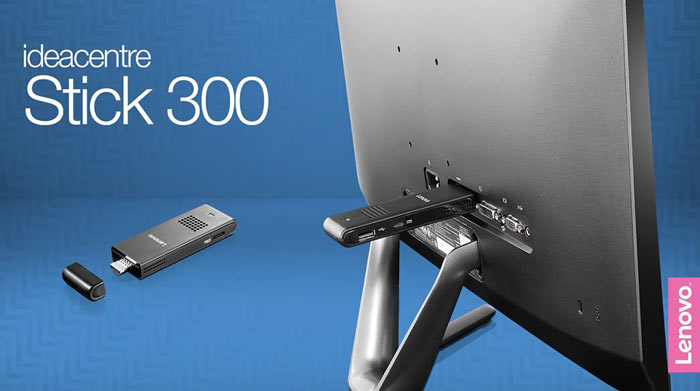 The new HDMI stick format Lenovo PC will become available starting from July via Lenovo.com, Dixons and Amazon. It will be priced at £129 (US pricing is $129, says Microsoft) - that's £10 more than the Intel Compute Stick STCK1A32WFC sells for at SCAN Computers.
From the official datasheet (PDF) I have compiled the specifications list below:
Processor: Intel BayTrial Atom Z3735F, 2M cache, up 1.33GHz base / 1.83GHz burst
Memory: 2 GB
Storage: 32 GB
Speakers built-in
Networking: Wi-Fi 802.11 b/g/n, Bluetooth 4.0
Ports: 1 x HDMI, 1 x Micro USB 2.0, SD card reader
Physical: dimensions are 100 x 38 x 15mm,
Software: Windows 8.1 with Bing, upgradeable to Windows 10, Microsoft Office 365 (3 months trial)
Optional accessories: Lenovo Multimedia Remote - n5902a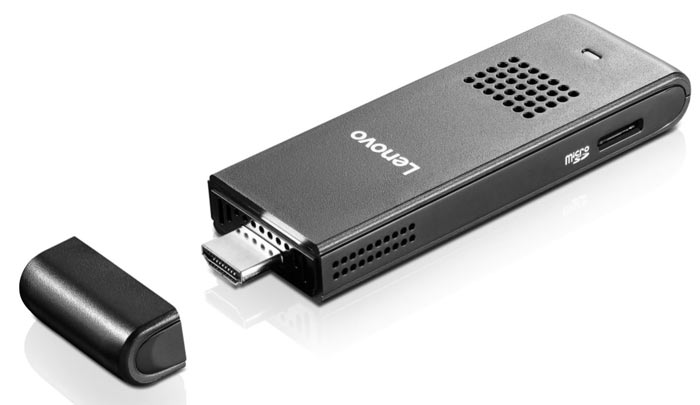 Looking through the above specs and also at the design and layout of the new Ideacentre Stick 300 one can't help noticing a very strong similarity to the existing Intel Compute Stick. The core specs seem to be the same and even the outside appearance and placement of ports/buttons seem to be duplicated. Slight size differences (the Intel stick is 103 x 37 x 12mm) and the fact that both are pretty ugly probably doesn't matter as they will usually be concealed behind your TV/monitor.

One thing I'd like to find out, but couldn't find details of, is the cooling solution offered by Lenovo. As it is slightly chunkier than the Intel stick, one might hope it offers a cooling solution that prevents any possibility of processor throttling. Finally, potential buyers might want to hold off for CherryTrail computer sticks, like the ASUS one, which should arrive at similar prices during Q4.