Intel is readying its first NUC barebones computer kits for launch in June. A PDF document providing an outline of the updated low power NUC models was unearthed by FanlessTech, squirreled away on an Intel download mirror.
The new NUC models are called the Intel NUC5CPYH and NUC5PPYH. The Braswell chips employed by these small computers are the 1.6GHz Intel Celeron N3050 dual-core and 1.6GHz Intel Pentium N3700 quad-core processors, respectively. Both of these 14nm 64-bit processors offer a 6W TDP but feature active cooling, according to disappointed FanlessTech writer. They both offer a step up in performance over the Intel Atom SoC packing NUCs without consuming a lot more power.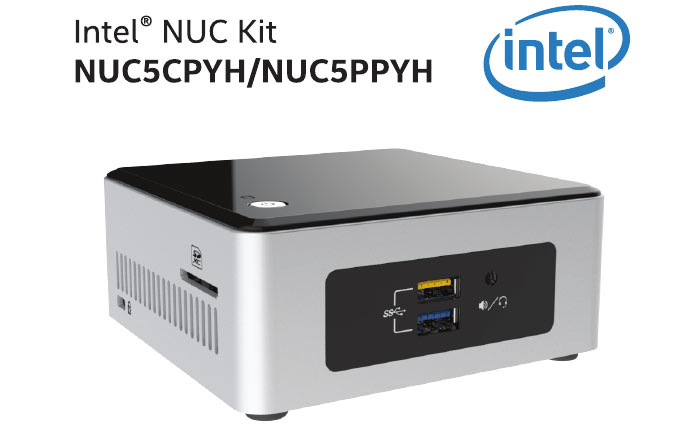 Intel's NUC5PPYH with Pentium processor is the more muscular of the two new Braswell offerings. As mentioned above it has a base clock speed of 1.6GHz and boost speed of 2.4GHz and four processor cores. Its integrated Intel HD graphics run at 400/700MHz (base/boost). This model is being offered for pre-order at prices under $180.
Intel's NUC5CPYH uses a dual-core Celeron processor running at 1.6GHz/2.16GHz base/boost. Its integrated Intel HD graphics run at 320/600MHz (base/boost). This model is up for pre-order in the US for under $140.

Looking at the overall design Intel hasn't done much compared to the previous generation other than change the CPU. Users have access to four USB 3.0 ports (one charging capable), HDMI, Gigabit Ethernet, a TOSLINK optical digital audio output, an SD card slot. Internally both models can accept a maximum of 8GB RAM (laptop-sized DDR3L memory), a 2.5-inch drive, an M.2. drive and have a 802.11ac Wi-Fi plus Bluetooth 4.0 wireless module. According to the source they will start to become available from 8th June.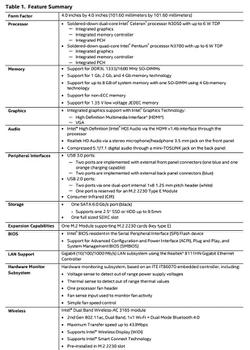 click to zoom, specifications summary
PC enthusiasts who are interested in NUCs might prefer to go for a new Broadwell NUC featuring the latest Core i7 and Core i5 processors. The i7 version includes Intel's Iris Graphics 6100 GPU and Intel has at least two "immersive gaming" Core i5 NUCs in the pipeline. HEXUS reviewed one of the first Broadwell Intel i5 NUCS, the NUC5i5RYH with Intel HD Graphics 6000, about a month ago.