We first saw the Intel Compute Stick back in January at the CES in Las Vegas. The PC in an HDMI-stick form factor seemed attractive as a low cost HTPC-style device at the prices put forward to us at the time. However sources offering up European pricing points have since left us feeling uneasy – suggesting something even worse than the regularly painful 1:1 Dollar to Pound exchange rate.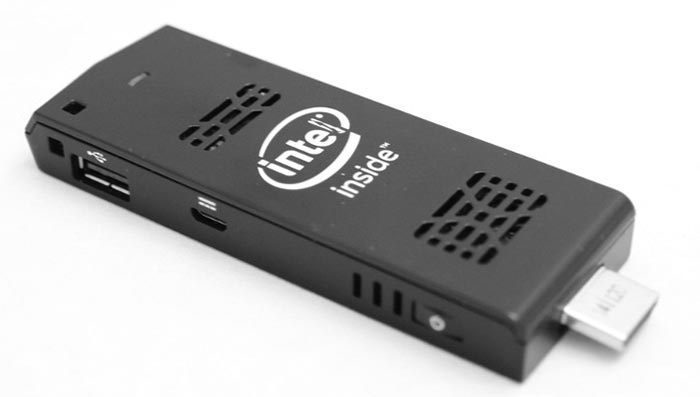 This weekend the Intel Compute Stick has appeared on several online retailers in the US including Newegg and Amazon. Liliputing reports that the pre-order US pricing is broadly in line with the prices Intel's John Deatherage put to us at CES. So the Linux version (STCK1A8LFC) of the Intel Compute Stick, with 8GB storage and 1GB RAM, costs about $110 and the Windows 8.1 with Bing version (STCK1A32WFC), with 32GB storage and 2GB RAM, costs about $150. While pre-orders are now possible, the actual availability date is said to be 24th April, see below.
Newegg screenshot probably shows the wrong spec for the Linux version.
In the UK the Intel Compute Stick is up for pre-order at the Stick PC Store at £169.95 with free postage – for the Windows 8.1 with Bing version. The seller says that it will ship from 8th May.
As a reminder of what is inside these 4-inch long HDMI stick PCs, other than the different OS and amount of RAM/Storage they are equipped with they have; an Intel Bay Trail quad-core Atom Z3735F processor, a mini and full-sized USB port, wireless connectivity, an SD card slot, Bluetooth 4 and a power button. These tiny PCs are thought to be equipped with a processor fan which should prevent processor throttling while you try and enjoy your high definition movies on your big screen TV.
Intel has published a sample list of Compute Stick compatible peripherals, which includes TV sets.