Many new PC form factors are going down the fanless route including the new Microsoft Surface 3. This trend looks set to continue with ever more efficient processors being launched. However if the decision to go fanless causes issues for end-users then system designers might have made the wrong decision.
Mouse Computer of Japan has launched a new HDMI connected PC-on-a-stick including a fan and circular venting. This mini-PC uses the common combination of Windows 8.1 with Bing powered by an Intel Atom Z3735F. That's the same as the yet to be launched Intel Compute Stick (which is also thought to include a small fan).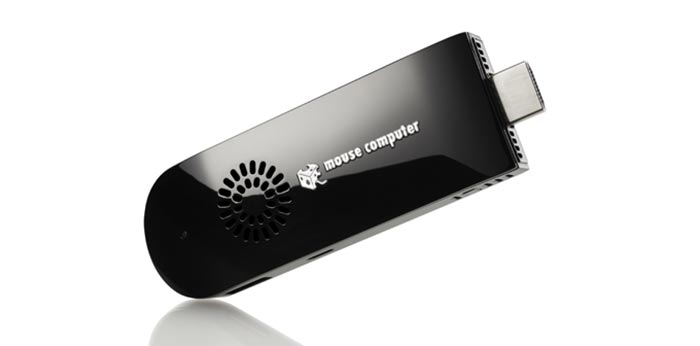 Various computer devices using this Atom processor in fanless configurations have been known to throttle due to overheating. This happens most noticeably when the devices are used to play back high-resolution media via the popular Kodi media centre (previously known as XBMC). This is a common media player application for such small PCs connected to your big-screen living room TV, so it's very bad if your device suffers from this heat issue. Liliputing readers report such problems with the MeegoPad HDMI stick and the Pipo X7 media playing box.
The HDMI-connected Mouse Computer m-Stick should cope better with smooth video decoding and playback thanks to its active cooling. Looking at the rest of the device specs it offers; a microSD card slot, a USB 2.0 port, a micro USB port for power and supports 802.11b/g/n Wi-Fi and Bluetooth 4.0. It measures 4.9 x 1.5 x 0.6-inches - that's 2-inches longer than a Chromecast and slightly thicker and wider. It costs about $175 but is initially only available in Japan from the end of this month.

Hopefully the fan noise isn't too apparent in this device, or with the Intel Compute Stick which we have yet to try out. Perhaps the next line of Atom processors from Intel will cope with the high resolution media playback users' desire without any thermal throttling in passively cooled designs.