We first saw and heard about Intel's latest range of Broadwell powered NUC PCs at CES earlier this month. At the show Intel's John Deatherage briefly talked HEXUS through the new NUC range which includes, for the first time, a Core i7 based model. Now Intel has updated its website with details of the upcoming Broadwell (5th generation) based range. There are seven new NUC SKUs in total and you can read about them, their specifications and configuration here. Unfortunately the only model with its specs not fully fleshed out is the i7 version…

Where facts are missing there's always speculation and the key piece of information that folks will want to know about the upcoming Core i7 NUC (NUC5i7RYH), with 2.5-inch drive support, is probably – 'what i7 processor will it feature?' FanlessTech says that, according to its sources, the chip will be the Intel Core i7-5557U which boasts Intel's Iris Graphics 6100 GPU. This dual-core four-thread chip has a base/ boost frequency of 3.1GHz/ 3.4GHz and a TDP of 28W (configurable down to 23W). The integrated Intel Iris Graphics 6100 has a base/max frequency of 300MHz/1.1GHz. The i7 NUC is expected to feature active cooling.
As a reminder of the promise of Broadwell powered NUCs Intel's Deatherage told HEXUS that:
Performance of both general purpose processor and graphics are "significantly better than the Haswell generation"
Some NUCs, models without the 2.5-inch drive bay, are below 30mm tall
Some models offer a taller version which can accommodate a 2.5-inch drive
The M.2 format in these NUCs will offer faster transfer speeds
All new models include wireless "for free"
Replaceable lids include: NFC lid for functionality like tap & share, and a TV tuner lid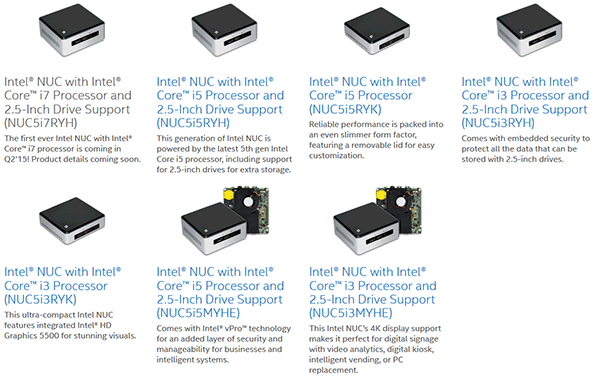 We still are waiting for release dates and pricing for the Broadwell NUC SKUs. The i7 version definitely won't be cheap with the i7-5557U processor alone listed at a tray price of $426. Interestingly Intel previously referred to the Broadwell i5 powered NUC5i5RYH and NUC5i5RYK on its 'Consumer Roadmap' as "Immersive Gaming" models.