Hannspree has announced details of what it claims to be the smallest PC on the market. This latest pocketable 'PC on a Stick' is called the HannsG Hannspree Micro-PC.
Well known for its TVs and monitors, the Micro-PC is a slight detour from Hannspree's usual offerings. The tiny computer packs a 1.83GHz Intel Atom Z3735F quad-core processor, 2GB of RAM, and 32GB of storage, with just under 25GB available as free space. Connectivity wise, it offers 802.11b/g/n WiFi and Bluetooth 4.0, an HDMI connector, USB port, a micro USB port, and a microSD card reader.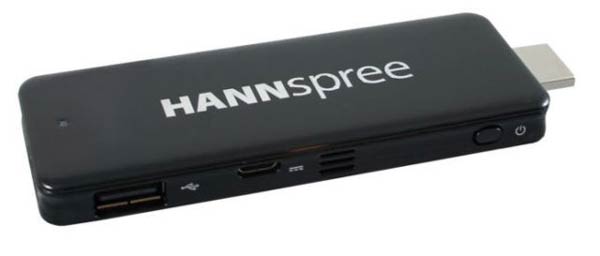 The Intel Atom Z3735F features Intel HD Graphics clocked to 311MHz, or 646MHz in burst frequency mode, for decent casual gaming larks and multimedia consumption. The microSD card slot, which officially supports up to an additional 64GB of storage, "has been successfully tested with up to a massive 128GB – around 80 full movies," says the firm.
"Set up office in any location and be up and running in less than 2 minutes," Hannspree claims. "Just load it up with digital content and slip it in a pocket to take large presentation files, HD video and personal data anywhere. Thanks to this new storage format and an architecture that has been adapted to make optimum use of the Windows 8.1 operating system, the PC on a Stick achieves superb performance in memory management, meaning faster and more fluid multi-tasking."

Measuring less than 110.9 x 38 x 9.8 mm and weighing just 38 grams, the brushed metal encased Micro-PC can transform any HDMI compatible display (touch optional) into a Windows 8.1 PC. Sold preloaded with a fully licensed version of Windows 8.1 with Bing, the price of the device is £170 ($257). For other purchase options Hanspree is doing some bundle deals with its screens included.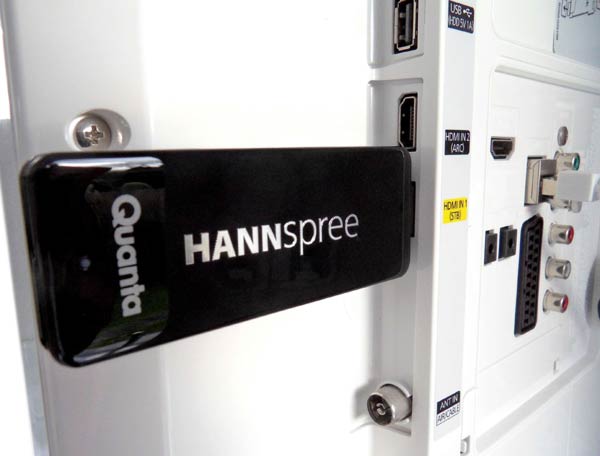 Some companies are charging £100 ($150) or less for similar HDMI PC hardware. However watch out as there have been recent reports of the likes of the MeegoPad T01 shipping with a trial version of Windows, which will need purchasing after a short period of use. Another option is the recently launched Intel Compute Stick which, in its Windows 8.1 with Bing installed version, is to be priced at $149 from March onwards.
UPDATE: it looks like this Hanspree device is a rebranded Quanta NH1.