Intel has been showing journalists at the International CES a new compact PC system called the Compute Stick. This HDMI stick format full PC system is powered by a quad-core Intel Atom Bay Trail processor and will be available for as little as $89 from March. If you watched our video published a couple of hours ago, 'Intel provides lowdown on new Broadwell-based NUCs', through to the end, you will have seen Intel's John Deatherage excitedly unpocket this diminutive computer (from 4m20s onwards).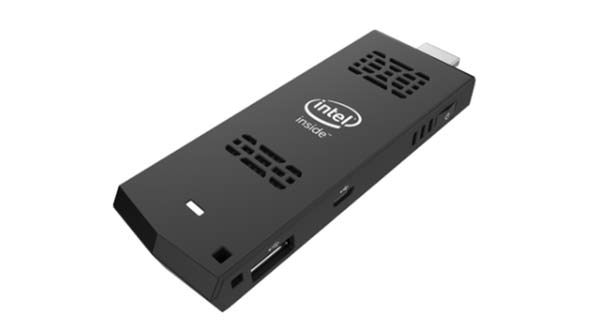 Intel has published a page dedicated to its Compute Stick already. It tells us that it's a PC that is ready to go straight out of the box and buyers can choose between Linux or Windows 8.1 versions. Both flavours are powered by a quad-core Bay Trail Atom processor and sport built-in wireless connectivity, on board storage and SD card slots. It is perhaps a little bigger than some familiar HDMI-stick streaming products as it is 4-inches long. Intel envisions the Compute Stick appealing to consumers, businesses and embedded/kiosk purposes alike. Unfortunately the page lacks a full specifications list and pricing information so it was good to hear from Intel's John Deatherage directly at the CES.

Linux version costs $89, Windows 8.1 with Bing version costs $149
If the subheadline above looks irksome that's because it isn't immediately apparent that the Linux and Windows 8.1 versions of the Intel Compute Stick sport different hardware specifications. Deatherage told HEXUS that the Windows 8.1 with Bing version features 32GB storage, 2GB RAM and an Intel quad-core Bay Trail processor. Meanwhile Intel will be selling "a less featured version" with 8GB storage and 1GB RAM, with Linux pre-installed (probably Ubuntu) and ready to go. As Windows 8.1 with Bing is supplied to hardware partners for free the large difference in price looks mostly to be down to the hardware on offer.
Digging around a bit, further hardware details of the Intel Compute Stick include; the processor employed will be the Atom Z3735F, a mini and full-sized USB port are present, Bluetooth 4 is equipped, there's a power button. Tom's Hardware also said that, according to the Intel reps they spoke to, the stick would remain cool, even after being used for a while.