ASUS has launched a new range of VivoMini Windows PCs. There are two new models available called the UN62 and UN42 and each one has two variants – please check the specifications matrix below for further details. Common to all these PCs is a compact chassis measuring 131 x 131 x 42mm, an Intel 4th generation processor, plenty of I/O, and quiet energy efficient performance. The UN62 also supports 4K/UHD output capability thanks to Intel HD Graphics 4400.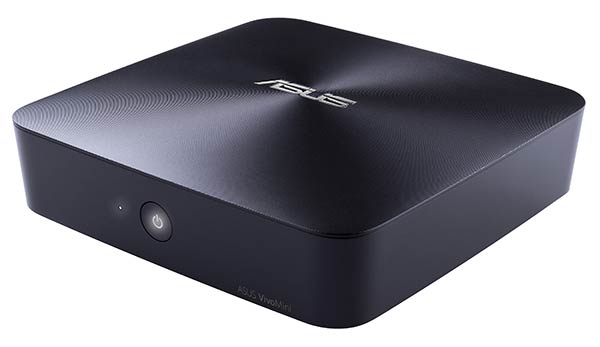 The VivoMini PCs are admirably compact designs featuring the ASUS Zen-inspired concentric-circle finish and said to be 0.6l in capacity. The dimensions of 131 x 131 x 42mm are pretty much the same size as a stack of four standard packaging audio CDs (or according to ASUS "slightly bigger than a standard men's wallet"). The chassis isn't an eyesore by any means but it is easily tucked away around the back of a monitor thanks to its VESA-mountability. The systems builder recommends the VivoMini range, including these two new entrants, as eminently suitable for both home and business users.
ASUS has packed a lot of I/O options into this small chassis including HDMI, DisplayPort, 4x USB (inc. a fast-charge USB), Ethernet, 802.11ac Wi-Fi, Bluetooth 4.0, 4-in-1 card reader, a headset/microphone combo jack. There's also a Kensington lock connector and the aforementioned VESA mounts.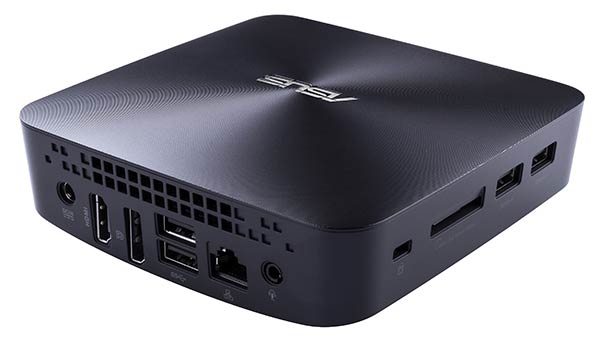 The power demands of the VivoMini range are said to be very low. ASUS says that the designs can consume as little as 6.95W when idle. Similarly the machine is a quiet operator with "optimized low-speed fan settings that keep noise levels down to just 18.5dB at idle, the same level as the sound made by falling leaves". Even full at load ASUS says the machines emit no more than 26.3dB.
In brief, the machines range from £119 for the UN42 Celeron 2957U powered machine to £289.99 for the UN62 Core i5-4210U PC, both barebones models. If you are interested in the low-end UN42 you can get a version that is ready-to-go, out of the box, including Windows 8.1 with Bing, 2GB of RAM and 32GB SSD for £199. If you are considering something more like the aforementioned UN62 you can save £40 by going for the model with a Core i3-4030U processor.