Intel showed off some new NUC prototypes at the IDF (Intel Developer Forum) last week. PCWorld found the tiny PCs on show at a booth "tucked away" at the event. Some of the new NUCs on show employed the latest Broadwell chip architecture and sported an interesting new chassis designs. Broadwell NUCs are expected to arrive next year.
Traditional design NUC
There seems to be two distinct NUC flavours in the making. Intel showed one design that borrowed the look of the Haswell powered NUCs we see on the market today. PCWorld says the new 'traditional' design NUCs it saw will be slightly smaller. However they come with the same set of ports as current NUCs; "two USB 3.0 ports in front, two more in the back, and one each of SATA data and power connectors, plus a Mini HDMI and Mini DisplayPort video output".
Another NUC with this 'traditional' look has integrated speakers from Sound Edge and a built in microphone. These speakers work well even in confined spaces, we are told. Yet another variation offered touch-chassis controls where a user adjusts the speaker volume by dragging a finger along the top of the box. Intel exec Bhupesh Agrawal said that in the future Intel would also look into packing an integrated battery into the NUC for enhanced portability.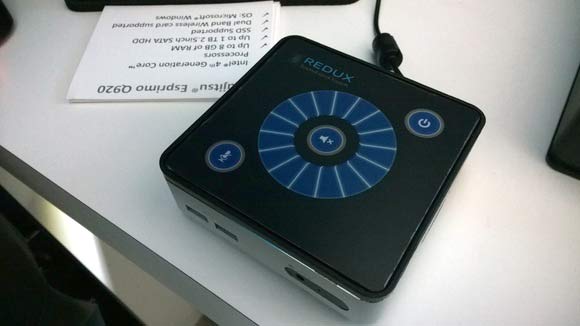 Intel revealed a new processor which many NUC designs would be fitted with. PC World reports that Intel will offer Broadwell-U processors with these mini PCs. This dual-core chip has a 15W TDP.
The 'Half-NUC'
This eye-catching red mini-PC is roughly half the size of the, already small, regular NUC. Inside its red rounded edged chassis you will find one of Intel's Atom chips. Matching the cheaper processor, Intel's design has pared down the ports on offer to just "a pair of USB ports on the back, plus an HDMI and VGA connection," reports PC World. It will be passively cooled and equipped with one of the smaller form factor storage drives like M.2 we think.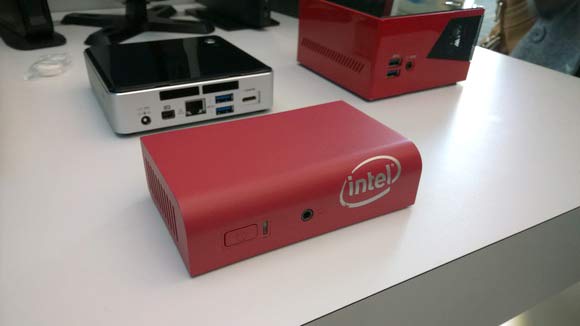 While it's interesting to see these developments, especially the touch-chassis and Half-NUC designs, they may not be brought to market by Intel. Hardware partners will be able to make their own offerings based upon these designs indicated Agrawal.