ZOTAC has announced that it has further reduced the size of its mini-PC offerings with the new ZBOX PI320 pico. This is an Intel Atom powered quad-core PC that fits in your pocket. It is very small, its dimensions of 115.5 x 66 x 19.2mm compare to those of a small, but rather thick, budget smartphone. The ZBOX PI320 pico comes with Microsoft's Windows 8.1 with Bing (x86) preinstalled.
Tony Wong, CEO of ZOTAC, said that the pico is the result of his company pushing towards ever smaller form factors and is a natural progression from previous nano and nano XS designs. "Now with the all-new ZBOX PI320 pico, we have created our smallest mini-PC that can fit in your pocket," he said.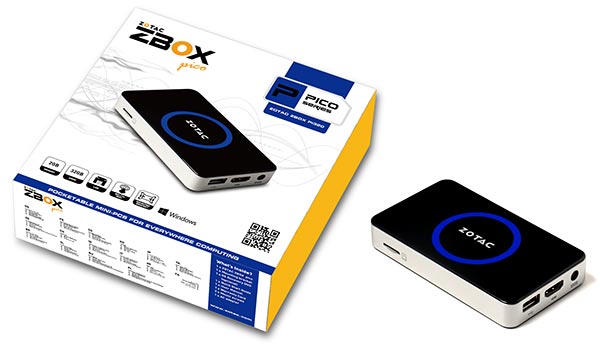 The ZBOX PI320 pico's small size makes it ideal for "any room in a house, specialized installations, and for seasoned travellers on the go," thinks ZOTAC. The eminently portable PC system is powered by a fanless Intel Bay Trail quad-core processor with Intel HD Graphics technology and provides a snappy, responsive but silent computing experience.
The system works straight from the box thanks to the inclusion of Microsoft's Windows 8.1 with Bing (x86). All you need to do is plug in an HDMI display and a suitable input device, such as a wireless touch keyboard, to be up and running. Unfortunately there are no USB 3.0 connections but this tiny PC offers quite a good range and variety of connectivity as you can see in the specs below.
CPU: Intel Bay Trail (Z3735F quad-core, fanless, 2.2W SDP) with Intel HD Graphics supporting DirectX 11. CPU clock speed is 1.33GHz and as high as 1.58GHz on Turbo
Memory: 2GB DDR3L
Storage: 32GB eMMC (integrated), expandable via micro SD/SDHC/SDXC (up to 128GB)
Card Reader: 3-in-1 (micro SD/SDHC/SDXC)
Connectivity: Ethernet 10/100Mbps, onboard 802.11n Wi-Fi & Bluetooth 4.0
USB Ports: 3x USB 2.0
Display Options: HDMI
Audio: HDMI audio (bitstream) and 3.5mm output
Dimensions: 115.5 x 66 x 19.2mm
OS: Windows 8.1 with Bing (x86) preinstalled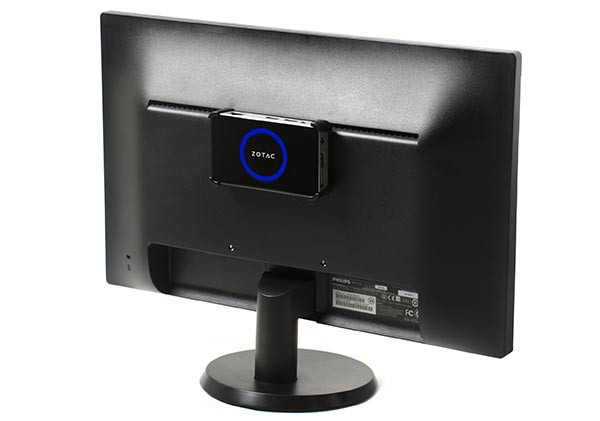 The system is supplied with a VESA mount in the box. You can see the full box contents in the picture below. Usefully it shows the system laid on a table next to a standard electric plugs and a documentation CD/DVD for scale.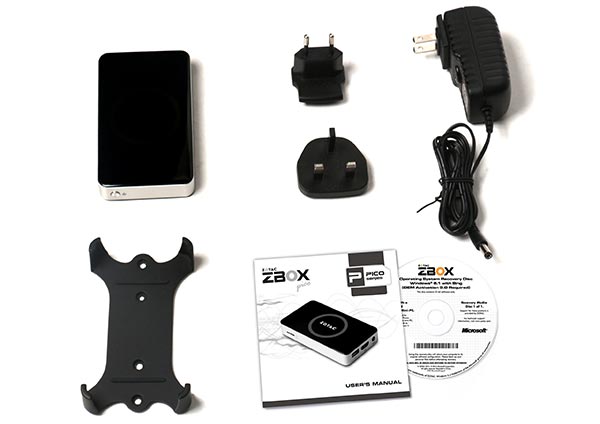 ZOTAC didn't supply us with pricing for this new system but according to Fanless Tech the ZBOX PI320 pico will cost $199 / 199 euros when it becomes available to buy next month.