Intel is readying its NUC 2.0 range, reveals an exclusive report and slides published on Fanless Tech today. According to the slides, which include a 'Consumer Roadmap' and overviews of several models in the range, we will see 'Rock Canyon' Broadwell chip powered NUCs as early as the start of 2015. The new range illustrates interesting use-cases and target markets for this range of NUCs featuring upcoming Intel processors. For all models mSATA SSD ports and external USB 2.0 ports will be axed. Super slim models don't have 2.5-inch SATA3 drive mounting support and will reply purely on M.2 storage.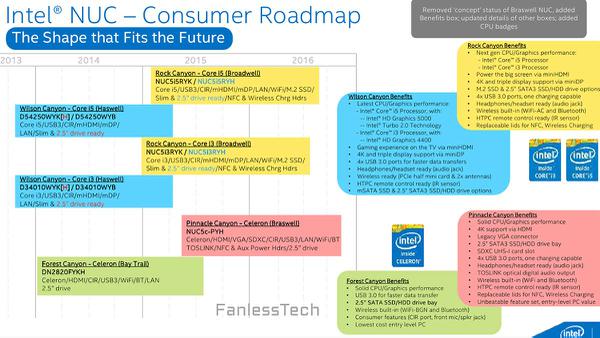 The first NUC 2.0 models will be based upon the Core i3 Broadwell chips and aimed at the target markets which Intel calls "Mainstream gaming, content creation, Hone theatre and home office". These NUC models will be even slimmer than previous incarnations and meant as a good all-round desktop replacements for many home offices. The 5th gen Intel dual core i3 processor has a 15W TDP. The integrated graphics version is not disclosed.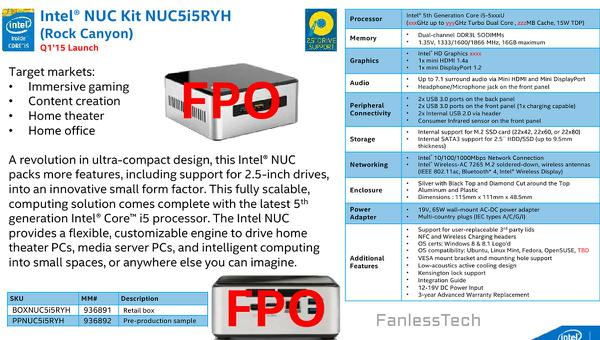 Also in Q1 2015, but just a little later, Intel's NUC 2.0 models built for 'Immersive Gaming' will be launched (pictured above and below). Fanless Tech includes slides detailing two of these machines, both powered by dual core Intel i5 processors with 15W TDPs. The slide says that these machines are targeted at "Immersive gaming, content creation, home theatre and home office". The slides also detail the pair as follows; one is a "fully scalable computing solution", the other says it offers Intel HD Graphics capable of 4K display output. Unfortunately, again, the actual Intel GPUs chosen to be included in these models are not disclosed. That would be a key piece of info to see if these could indeed by workable so called 'Steam Boxes'.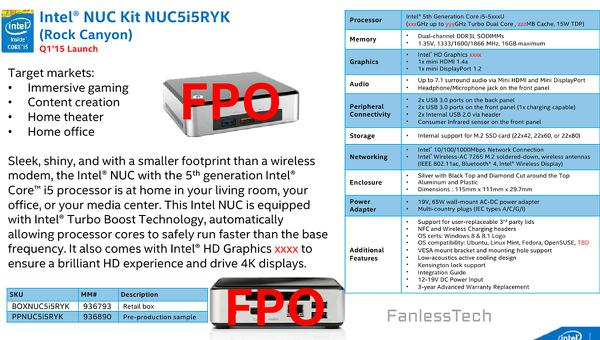 Another interesting new NUC 2.0, released further into 2015 (probably Q2), will use the Intel Celeron Braswell chip. Pinnacle Canyon NUCs are aimed at the entry level PC market and targeted at "HTPC and light mainstream gaming". The slides from Fanless Tech in this case are missing even more key specifications. Though we get an overview of the machine's ports and capabilities we don't know the dual-core processor's speeds, cache, TDP or built-in graphics processor type.
Finally, although Fanless Tech were first to reveal these slides, none of the models is listed as fanless, they all offer a "low-acoustics active cooling design". However it is noted that the system boards will be compatible with third party fanless chassis.
Please remember that these slides may or may not be genuinely leaked from Intel and specs/designs may also be subject to change before launch time.