We covered the launch of the fanless 'high-end' copper foam cooled PC project by Silent Power at the end of last month. Now this fascinating crowdfunded project has been fleshed out with actual photos of the prototype (rather than renders), more details about how the heat buffer works with the copper foam and news that a DisplayPort connector has been added to the PC's specifications.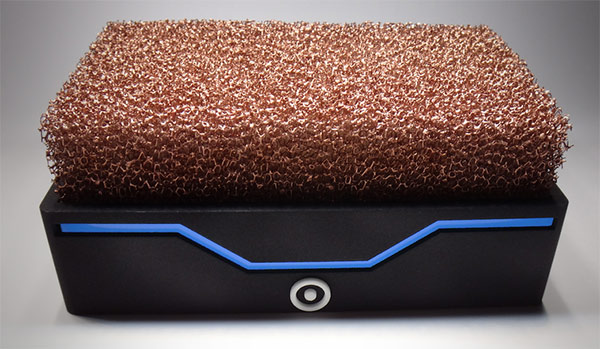 The Silent Power team write about how they are relieved that their brainchild has arrived in the flesh and works as intended. A manufactured working first prototype is now in their offices and the team will be testing and reporting upon its qualities and capabilities in the coming days and weeks. So we are hoping to see a selection of popular games and creative software tested to give the system a good benchmarking with an eye on the system temperatures – especially as the copper foam cooling is a major feature of this silent PC.
Earlier this month Silent Power also detailed the inner 'workings' of the passive cooling system. What we have isn't just a large block of copper foam slapped on top of the custom CPU and GPU board. A diagram, as reproduced below shows that there's a solid copper part with direct contact with the CPU and GPU which is "is designed so that it can distribute the heat evenly to the copper foam". Silent Power calls this the 'Heat Buffer'.

Also due to feedback/customer demand Silent Power has added a 4K native capable DisplayPort connector to the specifications of its PC. The team implemented design changes to fit in the port and has confirmed a successful integration into the prototype.
A tiny powerful PC
Also, spec hounds, Holger Ficht from Silent Power wrote to me with the dimensions of the prototype Silent Power PC; it's extremely compact at 16x10x7cm. That's a little wider than a stack of 750 sheets of 80gsm A6 paper. It weighs 1.35Kg.
Here are the current Silent Power PC specs:
Operating system: Windows 8.1 64-bit
Processor: Intel Core i7-4785T
Memory: 8GB or 16GB of DDR3 RAM
Hard drive / mass storage: 500GB SSD or 1000GB SSD
Graphics: NVIDIA GeForce GTX760 GPU graphics (2048MB)
Connectors: 4x USB 3.0; DVI, HDMI and DisplayPort, audio in, audio out, Ethernet
Surface temperature max. 50 °C.
Wlan: Wi-Fi IEEE 802.11 a / b / g / n / ac
Dimensions: 16x10x7cm
Weight: 1.350Kg
60 days right of return (full repayment - Silent Power suggested to try )
2 years warranty
Prices: 8Gb RAM/500GB SSD = €699, 16Gb RAM/500GB SSD = €769, 16Gb RAM/1TB SSD = €1,159
The Silent Power team are now a third the way to their funding goal of €45,000. I will update readers when we see some system benchmarks and temperature readings emerge.