Intel hardware partner MinnowBoard.org has launched the MinnowBoard MAX which is, conversely, a smaller size MinnowBoard circuit board based computer platform. The new board is "smaller in size than its predecessor, but is big on compute power and customization," writes Intel on its Chip Shot blog. We looked at the 4.2-inch square MinnowBoard with Intel Atom E640 @ 1GHz (32bit) in summer last year.
The MinnowBoard MAX is, like its older brother, marketed as a powerful development board for both professionals and makers. It features an open hardware design so it can be customised for the purpose in the developer's mind. Many of these computers will find their way into such applications as digital signage and point of sales systems. It's not designed as a competitor to the likes of an Intel NUC or Gigabyte BRIX but of course it's up to the buyer what they do with these mini x86 machines. The MinnowBoard MAX can be used with OSes including Debian GNU/Linux and Yocto Project Compatible Android 4.4 System.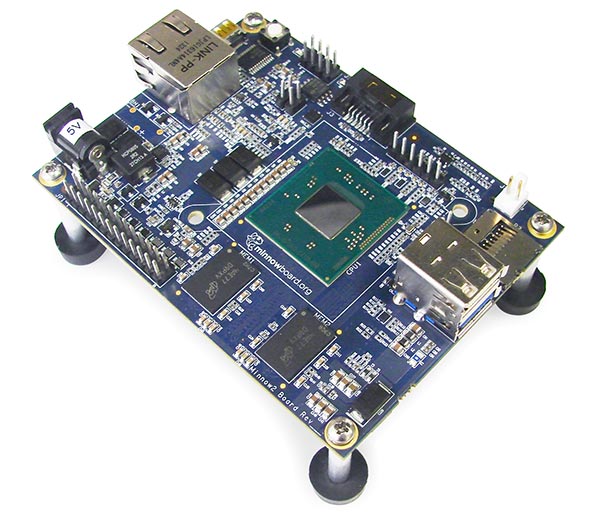 MinnowBoard MAX specifications:
SoC: 64-bit Intel Atom E3815 (single-core, 1.46 GHz) or E3825 (dual-core, 1.33 GHz) with Integrated Intel HD Graphics
Memory: DDR3 RAM, 1GB or 2GB
Firmware: 8MB SMPI flash. UEFI boot firmware
Audio: Digital via HDMI or analogue with breakout board
I/O: One each of; MicroSD, SATA2, USB 3.0, USB 2.0, Ethernet, Serial (via optional cable)
Dev features: 8 – Buffered GPIO pins, I2C & SPI bus, System Firmware Flash Programming Header
Dimensions: 99 x 74mm (2.9 x 3.9in)
Power: 5V DC input
Both a low speed and high speed expansion port is available with the following features:
Low speed expansion port: Available signals: SPI, I2C, I2S Audio, 2x UARTs (TTL-level), 8x GPIO (2x supporting PWM), +5V, GND
Low speed expansion port: Available signals: 1x PCIe Gen 2.0 Lane, 1x SATA2 3Gb/sec, 1x USB 2.0 host, I2C, GPIO, JTAG, +5V, GND
The first batch of production MinnowBoard MAX units should to be in stock at distributor sites by the end of June this year. Pricing for the single core 1GB Ram version will be $99, the dual-core 2GB version will cost $129. Open Hardware Design files will be made available under Creative Commons licensing within weeks of production boards being available at the distributors.