The Indiegogo project for a very small AMD APU powered PC by the name of Tango has gone past double its crowdfunding goal with over 30 days left of the campaign. This smartphone-sized PC packs a quad-core AMD Kabini APU and features upgradeable RAM and storage. The docking station provides most of the ports you would need and you can install pretty much any PC compatible OS such as Windows, Linux, ChromeOS or SteamOS.
The makers of the Tango say "We believe Tango is the next step in the evolution of the PC." It can run most of the PC apps you use for work or pleasure and also play games pretty well. On the Indiegogo campaign site the makers describe it as "the world's most portable computer with the power to run demanding applications; namely graphic intensive games."
Despite its small size (125mm X 80mm X 13.5mm) it's still upgradeable - hard drives or RAM can easily be swapped out to expand the computer's capabilities. The docking station (135mm X 135mm X 27mm) allows a good range of connectivity options, with the following connections available; 1x HDMI, 3x USB 2.0, 1x USB3.0, RJ45, internal Wi-Fi, AV jack, DC 12V jack. Also in the docking station are the cooling components including a fan and large heatsink.
Here is a specifications list for the Tango PC:
Processor: AMD A6-5200 Quad Core 2GHz, up to 25 watts, with integrated GCN GPU HD8400
Memory: SODIMM DDR3-1600 socket x1 (from 2GB to 8GB). Laptop RAM
Storage: SATA III mSATA SSD Socket x1. (from 32GB to 512GB or higher)
Operating System: Any laptop PC compatible OS can run on Tango (Windows 7, 8 Pro, Linux flavors, Chrome, etc). Windows 7 and 8 Pro will be certified to run.
PC Size: 125mm X 80mm X 13.5mm
DockPort Size: 135mm X 135mm X 27mm
DockPort Connectivity: 1x HDMI, 3x USB 2.0, 1x USB3.0, RJ45, internal WiFi, AV jack, DC 12V jack
AC Adapter: 60W, 110-270V input. Connects to Docking Port.
Warranty: 1 Year return to base warranty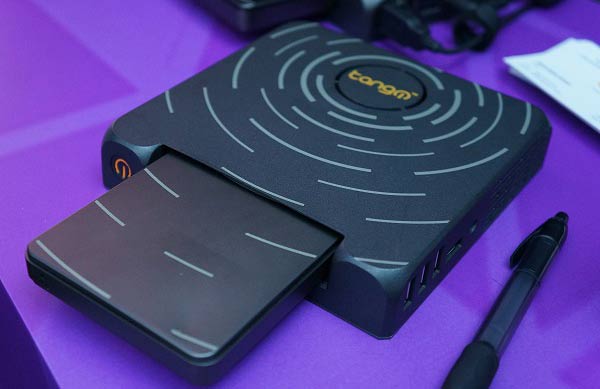 To get a Tango PC from the initial production run costs $349 and the computer is expected to be delivered to end users sometime in April 2014. For the $349 price (add $29 shipping for outside of the US and Canada) you get a Tango PC with 4GB of RAM and 32GB SSD with Windows 7 trial version installed. There are also prices for factory RAM and storage upgrades available.
Tango PC has an interesting idea to save customers money; "Instead of spending thousands of dollars on Computers at home and office, and not to mention HTPCs and gaming consoles, all you need is just one Tango PC which you can carry just like a smart phone. Replace the Computers, gaming consoles and IPTV boxes with inexpensive and tiny docking stations," the company suggests. The Tango PC goes into standby when you extract it from the dock and wakes up when plugged in again (to any dock). PC state is saved thanks to a small battery, if this goes low then the system hibernates (Windows).
If you think the one Tango PC with multiple docks system is a good idea you can get a single additional dock for $89 or two for $169.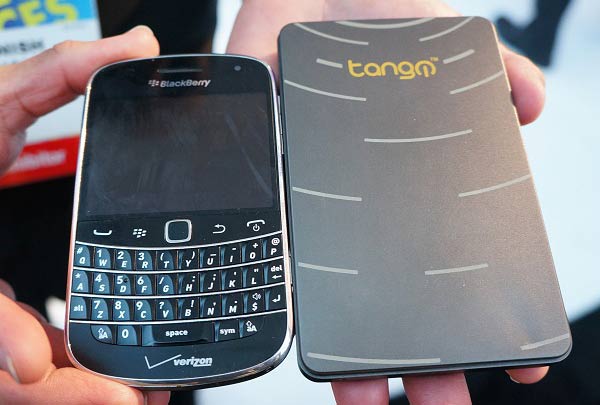 Right now the campaign has raised nearly $230k with 32 days remaining. There are two stretch goals that you should be aware of; Reaching $250k of funding results in all Tango PCs being bundled with a free Bluetooth dongle and faux leather carry case. The $500k goal provides a chassis upgrade to the system which will become a "forged toughened, chamfered aluminium alloy CNC machines PC body," probably thanks to economies of scale of manufacture.