Gadget dismantlers iFixIt managed to get their hands on one of the very few Valve Steam Machine prototypes late last week. Despite only 300 prototypes being sent out, making these machines almost a PC Gamer equivalent to a Willy Wonka Golden Ticket, someone allowed the iFixIt guys to attack their precious new baby with screwdrivers. Following the disassembly of this particular machine, remember the components vary, the dismantlers tallied the cost of the parts to be roughly US$1,300.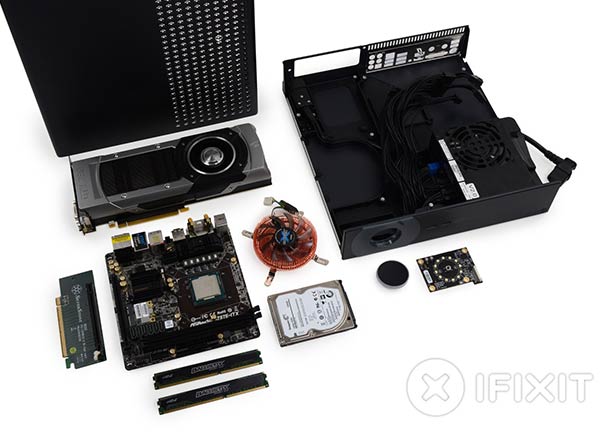 We saw an amateur 'teardown' of a Steam Machine about a week ago when YouTuber Corey Nelson released a series of Steam Machine, Steam OS and Steam Controller 'first impression' videos. However you can rely on the iFixIt team to delve deeper and more methodically; it's their stock in trade.
To begin the analysis the Steam Controller was first to be pried apart. The controller is wired only, so needs no battery compartment, just a long USB cable. The main component in the pad, tasked with sending all that varied input to your Steam Machine, was identified as the NXP LPC11U37F microcontroller.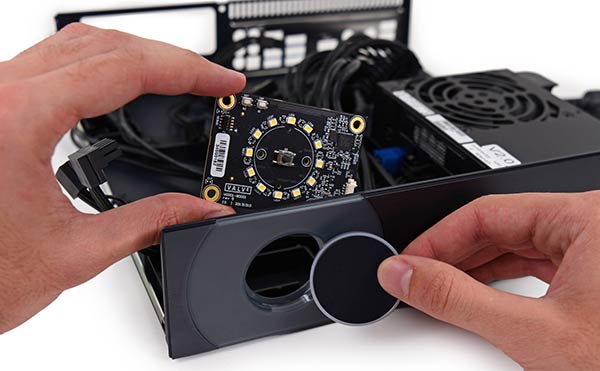 Now iFixIt looked at the ports on offer on the Steam Machine itself. One gang of ports all come from the ASRock Mini-ITX motherboard. This includes a standard roster of USB 2.0 and 3.0 ports, PS/2 keyboard and mouse, S/PDIF, eSATA, Ethernet (and a Wi-Fi antenna connector), 3.5 mm audio in/out, rear speaker, c/sub, and microphone ports. This motherboard also sports DisplayPort, DVI, and HDMI ports for use with the integrated graphics (Intel HD Graphics 4600 from the i5 chip) but Valve had thoughtfully filled them with grommets - so you would be swayed towards plugging your monitor into the ZOTAC GeForce GTX 780 3GB GDDR5 graphics card – simply by fumbling along the path of least resistance.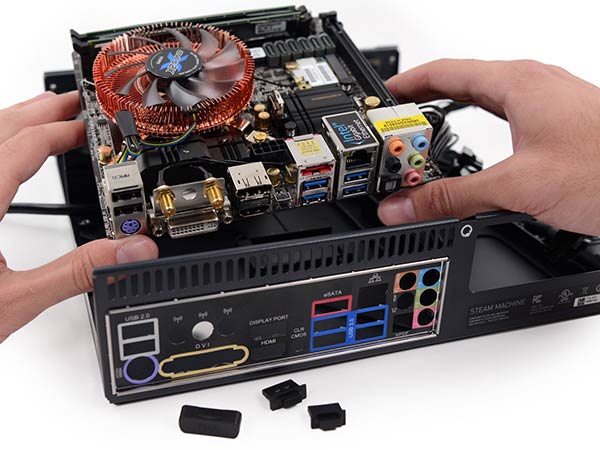 So what other components were in there? This Steam Machine complemented the ZOTAC motherboard and GTX 780 with a 3.2GHz (3.6GHz boost) quad-core Intel Core i5-4570 processor cooled by a Zalman CNPS 2X Mini-ITX CPU cooler. Two sticks of Crucial Ballistix Sport 8GB DDR3 (PC3 12800) RAM gave the machine 16GB in total. For fixed storage the machine had a 1TB 2.5-inch Seagate ST1000LM014 laptop SATA III SSHD (Solid State Hybrid Drive), this drive has 8GB of NAND.
Other components included a SilverStone SST-ST45SF-G 450W SFX12V SLI Ready CrossFire Ready 80 PLUS GOLD Certified power supply. Another SilverStone component necessary to this machine build was an RC2 PCI Express x16 riser card to facilitate the fitting of the GeForce GTX 780 within this custom chassis.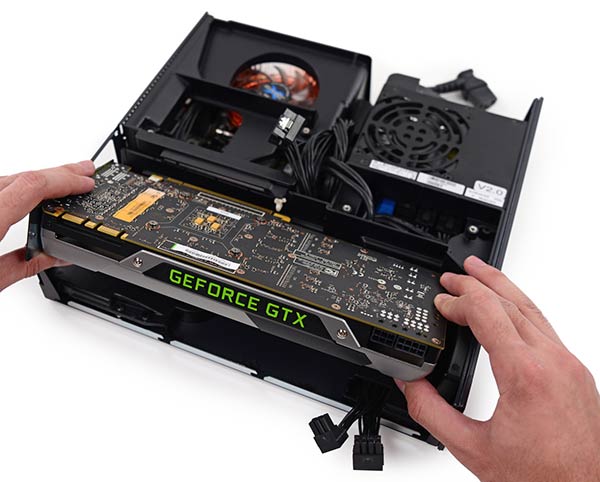 As PC enthusiasts you probably aren't surprised to find that iFixIt concluded that the Steam Machine was eminently repairable and it attained a score of 9/10 - with 10 being the easiest to repair. The main chassis is opened easily after the removal of a single Phillips screw and it is stuffed with modular off-the-shelf components. RAM chip access and reassembly cable routing were the only potential sticky problems to tinkerers.
With a parts list adding up to approximately US$1300 this unit would be marked up to a price about three times console competitive territory. However there are going to be a wide range of Steam Machines available, as soon as January we are expecting a US$499 example from iBuyPower to be shown at the CES Las Vegas. This is one of the great things about Steam Machines – and PCs – you can build it to the spec you want now and usually upgrade later.