Mobility is the central thrust of this year's Intel Developer Forum (IDF). Headlining this focus on mobility is the all-new Bay Trail platform powered by the latest Atom chips. Bay Trail is big news because, most commentators agree, it enables Intel to compete with Qualcomm, ARM, Nvidia and Samsung for the hardware that goes inside the ever-expanding tablet market.
But Bay Trail's silicon flexibility and seemingly impressive performance-per-watt metric means it can be used in other devices, as well. Intel, for example, has already earmarked various Bay Trail incarnations for 2-in-1 laptops/tablets and entry-level notebooks and desktop PCs.
Bay Trail appears to be a great fit for Intel's nascent Next Unit of Computing (NUC) initiative, and the cheaper-to-produce silicon should help drive adoption through lower prices. Intel's made no public announcements on Bay Trail-infused NUCs, but we've managed to ascertain that such devices look set to arrive in Q1 2014.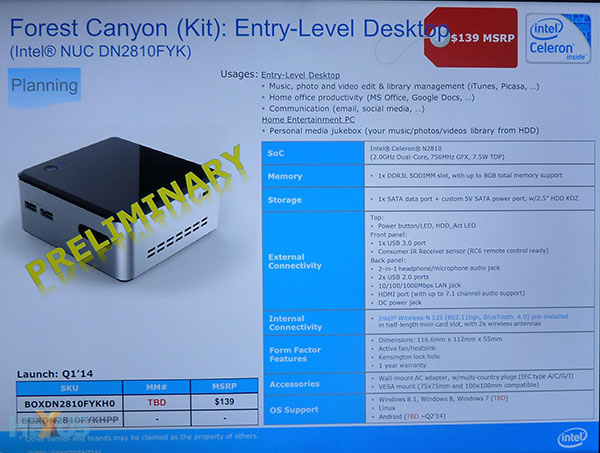 Currently very much in a planning phase and internally known as Forest Canyon, the NUC DN2810FYK will use the unannounced Celeron N2810 Bay Trail-M chip. Clocked in at up to 2GHz and with the HD Graphics chugging along at 756MHz its specifications resemble an Atom Z3680 from the tablet range. And while Bay Trail SoCs are capable of running without active cooling, which is a must for modern tablets, the relaxed desktop specifications and higher TDP (7.5W TDP, 4.5W SDP) translate to a fan-cooled design for this entry-level desktop.
Bay Trail SoC's integration provides a solid roster of features, from HDMI output to USB 3.0 connectivity. You might expect this NUC to be smaller than the incumbent but this is not the case. Standing at 55mm tall the extra space is devoted to a SATA port (instead of mSATA) for wider storage compatibility.
One of Bay Trail's key selling points is the ability to run either full-fat Windows - no RT here - or Android. Much like the strategy adopted for tablets, Windows 7/8 compatibility comes first and Android later.
We can presume the real purpose of this NUC is to bring it to a wider audience. Intel plans to sell the barebones unit - pre-soldered SoC, board, WiFi, and connectivity - for $139. Given the reasonable levels of performance exhibited by the pre-production tablets, albeit using the best Atom CPU, this NUC appears to have the potential to provide a much-needed boost to the itty-bitty form factor. What do you think? Does a Bay Trail-based NUC make sense, or would you rather see an AMD Temash version instead?