ASUS has launched the ROG Tytan G70 desktop gaming PC, featuring a 4th generation Intel Core i7-4770K processor and NVIDIA GeForce GTX780 graphics card. For the new Tytan G70 ASUS has used the transforming case from last year's Tytan CG8890 gaming PC, this case transforms by opening vents in the back and either side panel for better cooling when set to overclocking mode.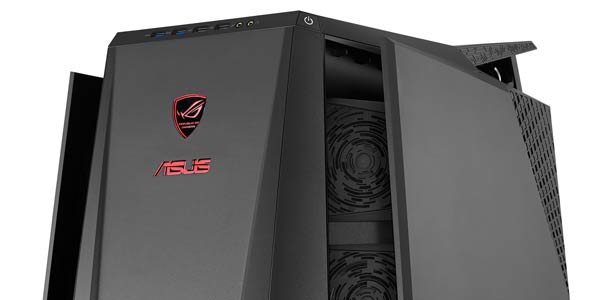 ASUS ROG Tytan G70 specs:
Operating system: Windows 8 (64-bit)
Processor: 4th generation Intel Core i5 / i7
Chipset: Intel Z87
Graphics: Up to NVIDIA GeForce GTX 780 (3GB GDDR5)
Memory: 4GB (32GB max) dual-channel DDR3 (1600MHz)
Expansion slots: 1 x PCI-e x 16, 1 x PCI-e x 1, 1 x PCI-e x 8 (shared with x16), 1 x PCI-e x 4
Storage: Up to 15TB (5 x 3TB) SATA 6Gbit/s hard drive (7200RPM), Up to 256G SATA 6Gbit/s SSD
Drive bays: 3 x 5.25-inch, 5 x 3.5-inch
Optical drive: Super-multi DVD burner / Blu-ray combo / Blu-ray writer
Audio: 7.1 channel with ASUS SonicMaster technology, Xonar Phoebus sound card (optional)
Connectivity: 6 x SATA 6.0Gbit/s, 4 x USB 2.0, 6 x USB 3.0, HDMI-Out, DVI-D, DisplayPort, VGA D-sub, Gigabit Ethernet, 3.5mm headphone, 3.5mm microphone, 3.5mm 7.1 audio-out, S/PDIF-out, PS/2 mouse/keyboard, 16-in-1 memory card reader
Power supply: 500W / 700W
Size: 300 x 530 x 630mm
Weight: 24kg
The official specs, above, seem to mention everything except for the ASUS ROG Tytan G70's most eye catching and impressive features - the case and cooling solution on offer. You can see the same case and cooling design in action in a video here, it was featured on 2012's ROG Tytan CG8890.
At the touch of a button you can activate the ROG Tytan G70's "Turbo Gear" - the processor's four cores are all instantly overclocked, without the need of a reboot or any BIOS fiddling. Push the button for Level 1 overclocking, to boost the standard 3.7GHz Intel Core i7-4770K to 3.9GHz, or go to Level 2 for 4.1GHz. Simultaneously the case will transform with sides and back vents smoothly opening up to allow the 10-way venting system to keep everything cool. The cooling is very effective and will "ensure ultimate stability" combined with the Tytan's integrated CPU water cooling system, says ASUS. Also just like the ASUS ROG G30 system we saw at Computex this year all the system LEDs change from blue to red, as if you needed any further visual hint that you'd pushed the overclock button.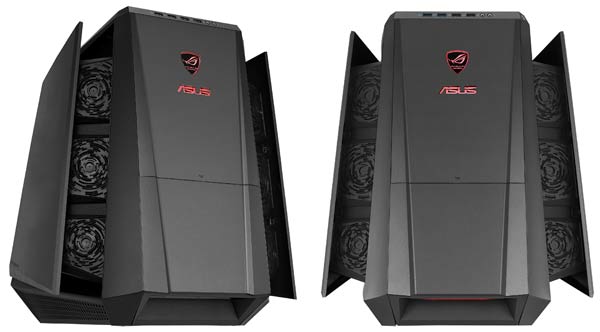 Beyond the sheer CPU and GPU horsepower on offer ASUS has worked to finesse this gaming system by providing "enhanced SonicMaster audio" for immersive and impactful 7.1 sound, "enhancing the gaming experience with reverberating explosions and gunshots, with even the slightest footsteps giving directional auditory cues on the battlefield." Also it's nice to see that Qi inductive power compatible smart devices can be charged cable-free on top of the G70's case.
The ROG Tytan should be available worldwide right now.