ASUS Republic of Gamers (RoG) has shown off a cornucopia of gaming hardware today at Computex. New gaming focussed Tytan desktops and notebooks were shown, as were RoG Maximus motherboards and a new gaming keyboard.
Systems
The ASUS RoG Tytan G750 is a gaming laptop which will use a 4th generation Intel Core i7-4700HQ processor and one of Nvidia's latest mobile GPUs from the 7XXM series. According to Engadget the version on stage at the unveiling was equipped with an Nvidia GeForce GTX 765M. This ties-in with the earlier leaked information which came out just before Computex. According to that source a flagship version of the G750 will include an Nvidia GeForce GTX 780M with 4 GB of GDDR5 memory.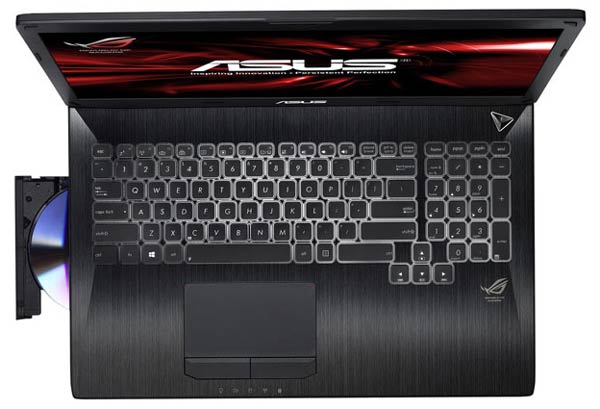 The Tytan G750 employs a 17.3-inch 1080p display. RAM fitted to the machine will be between 12GB and 24GB. The chassis has room for two drives and would work well with a combination of HDD and SSD. Other laptop specs include a backlit keyboard, Blu-ray drive, HDMI output and a 2MP webcam.
The ASUS RoG Tytan G30 is a gaming desktop powered by an Intel Haswell Core i7 4770K processor and Nvidia GeForce GTX 780 graphics card. This computer uses a combination of air and liquid cooling systems for effectiveness and reduced noise. It has an overclocking button; "We have included an overclocking button that allows you to 3.7GHz to 3.9GHz to 4.1GHz and all the way up in one click," said Asus CEO Jonney Shih. When you overclock this machine the glowing LEDs change from blue to red.
Motherboards
ASUS RoG motherboards on show include the Maximus VI Formula, Hero, Gene, Extreme and Impact. The Formula is the top of the range gaming motherboard which is improved over the previous generation by using backplate and front "armour" to help your board survive the stress of those heavy GPUs, keep it free from dust and aid cooling. Also the Formula has improved audio components in the shape of the Realtek ALC1150 combines with a front panel CirrusLogic DAC boasting a 120 dBA SNR.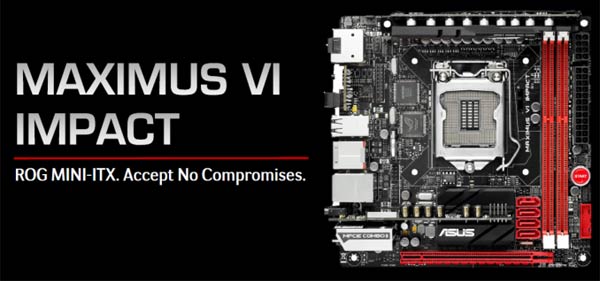 The Maximus VI Impact promises to deliver RoG performance in the 17cm square mini-ITX form factor "Accept no compromises" suggests the strapline. To fit into this space the board uses a daughterboard for power delivery and also includes a SupremeFX Impact sound card. Jonney Shih said it will "help make DIY gaming easier and more accessible".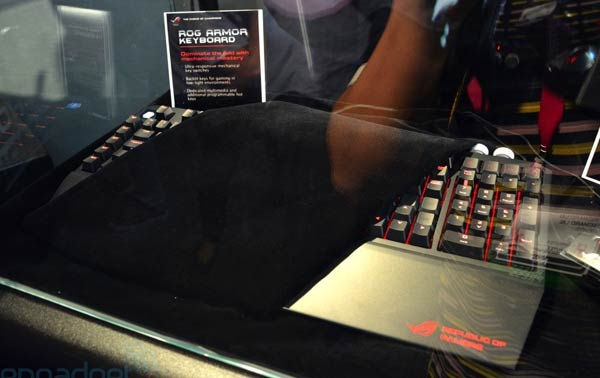 Keyboard
Also at Computex a new gaming keyboard called the 'Armour Keyboard' was teased by ASUS RoG. The device was only teased, partly obscured by black cloth, as it will be launched "towards the end of Q3". This will be ASUS's first in-house mechanical keyboard design and will boast features such as mechanical key switches, backlighting, media and macro keys.