Looking at ASUS's main presentation slide, the ASUS Transformer Book Trio contains four duos which come together to make a trio... However the Trio name doesn't come from its components (like the Trio biscuit), it comes from the modes in which this device can be employed; a tablet, a notebook and a desktop.
Today at Computex ASUS has shown off the Transformer Book Trio which it calls the "world's first three-in-one notebook, tablet, and desktop PC" as demonstrated by the diagram below.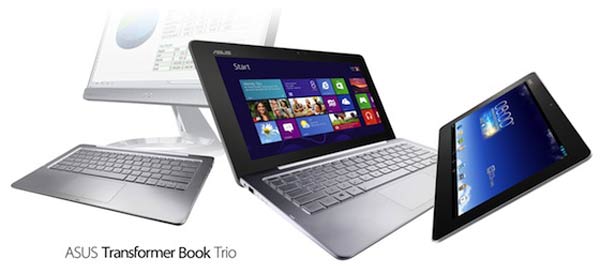 Breaking it down into its constituents, the screen unit is an 11.6-inch 1920 x 1080 full HD tablet powered by a 2.0GHz Intel Atom Z2580 chip. This tablet runs Android Jelly Bean, has a 64GB eMMC drive and a 19.5Whr battery.
The keyboard/dock is also a self-contained computer, sans screen. Inside the keyboard you have a Haswell i7 4500U processor and 1TB HD with Windows 8 installed as well as a 33Whr battery. The tablet portion can be docked with the keyboard and the whole unit looks like a standard laptop. When it is docked this way you can switch between Android and Windows OSes instantly by hitting a hotkey. The keyboard dock can also drive an external display wirelessly which I suppose gives us the third (desktop) mode.
Despite the two different OSes, and two different fixed disks on the laptop/tablet operations sides, ASUS says you can easily work in either of the modes and pick up and continue work in another mode. How this works wasn't explained but it is probably a software specific cloud solution for common-or-garden office type documents.
The ASUS Transformer Book Trio has a claimed battery life of 15 hours in total. No pricing indications were given today but the product is confirmed to be available in Q3 this year.