Yesterday in San Francisco Intel and its hardware partners held an event showcasing their new Clover Trail Atom processors. Tablets sporting a Clover Trail, AKA Atom Z2760 chip, will become available to coincide with Microsoft's release of Windows 8. Intel believes the new dual-core Atom chip, which runs at 1.8GHz has the performance and low consumption necessary to beat ARM on its home turf.
The new Atom Z2760 looks like it is popular with hardware partners already. Intel announced that Acer, ASUS, Dell, Fujitsu, HP, Lenovo, LG Electronics, Samsung and ZTE are all making tablets and hybrids using the processor. Intel is stressing the point that the new Atom Z2760 based tablets will be able to give the best Windows 8 experience; because they run Windows 8 and not Windows RT.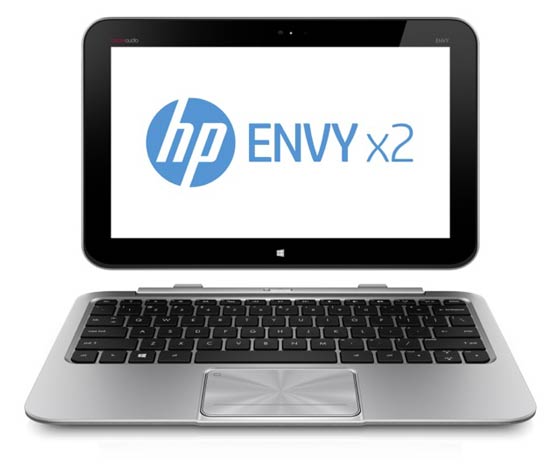 In a press release sent to HEXUS, Intel highlighted the following strengths of the new Atom Z2760 systems;
Intel-powered tablets and tablet convertibles offer users the best Windows 8 experience and deliver a range of new features from enhanced media capabilities to security built for the enterprise.
Intel-based tablets with Windows 8 are optimized for mobility, provide support for the Windows user interface and maintain flexibility to support for the millions of existing applications, and a full range of devices and other full-featured peripherals such as printers.
New Intel® Atom™ processor Z2760 architected specifically for Windows 8 offers outstanding battery life, and always-on technology in sleek designs that are lighter, more responsive and enable a multitude of options for mobile users.
The new Clover Trail SoC will allow hardware partners to build devices as thin as 8.5mm and weigh in at under 700g according to Intel reference designs. A Clover Trail based tablet or hybrid will provide a very portable, relatively light device with the flexibility of the full Windows 8 OS. The price and performance both strategically lower than the Intel Core based tablets such as the Microsoft Surface Pro.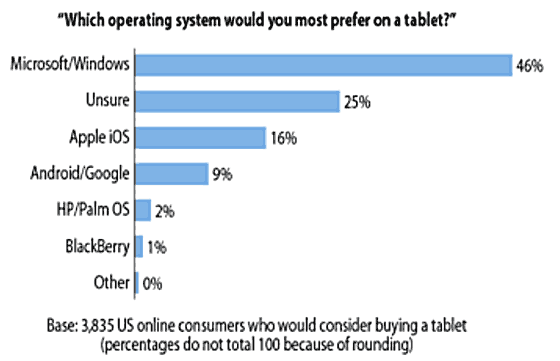 OS preference research findings slide presented by Intel
Battery life – 3 weeks of connected standby and over 10 hours of HD video playback
Battery life is often seen as an Intel Achilles heel in portable computing terms. We recently saw on the smartphone side of things; the latest Motorola RAZR i Medfield based phone requires a 40 per cent more powerful battery to get ARM equivalent smartphone stamina.
Intel says of the new Atom Z2760 chipset; "devices using the Intel Atom Z2760 offer a full-featured tablet computing experience that doesn't compromise its performance over battery life." Looking at the actual numbers Intel is touting, stamina does seem impressive; "The dual-core, four-thread SoC provides exceptionally long battery life with more than 3 weeks of connected standby and more than 10 hours of local HD video playback." These figures are based on the 10-inch Intel reference design at 200 nits brightness, with Wi-Fi on and a 30Wh battery installed.
Partner designs
Intel partners showed off many varied designs of tablets and hybrids build upon the new Atom Z2760 SoC. Most of these designs have been previewed before, such as the HP Envy x2, ASUS Vivo Tab TF810, Dell Latitude 10 and Acer Iconia W510.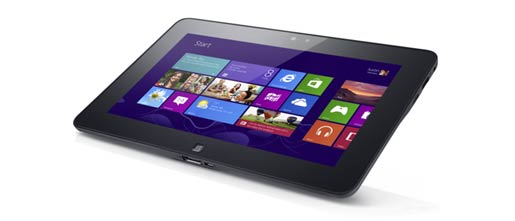 After the unveiling event, Erik Reid, general manager, Application Processor Platforms for Intel's Mobile and Communications Group said "This is just the beginning of Intel's effort in the tablet market, and our goal is to deliver products that fit the spectrum of evolving needs of both consumers and business users without compromising on compatibility, experience or battery life." He continued, taking a little snipe at Windows RT devices, by saying "When people or corporations buy a device with Intel Inside®, they're getting the best of Windows 8 features with a computing experience that just works" As usual, we consumers would like to have some prices for these tasty little gadgets. How will the all the Windows RT, Windows 8 Pro on Atom, Windows 8 Pro on Intel Core devices stack up price-wise? A Microsoft Surface based on Clover Trail might hit a sweet spot...