HEXUS first wrote about Intel's Next Unit of Computing (NUC) back in May this year. Presented as an ultra-small-form-factor PC platform useful for business applications such as digital signage, I got a chance to have a closer look at it during Intel Developer Forum 2012.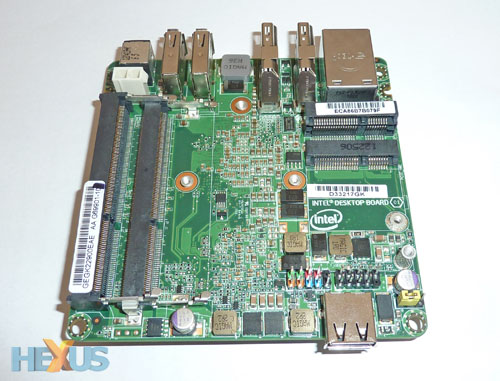 NUC uses a custom PCB that measures 10cm x 10cm, which is a little smaller than ZOTAC's Nano boxes. Though the board is somewhat irregular in shape, Intel uses standard-sized slots for memory and storage, encompassing two SO-DIMMs and an mSATA, respectively. The second expansion slot is a standard mini-PCIe, which will doubtless be populated by a WiFi/Bluetooth card.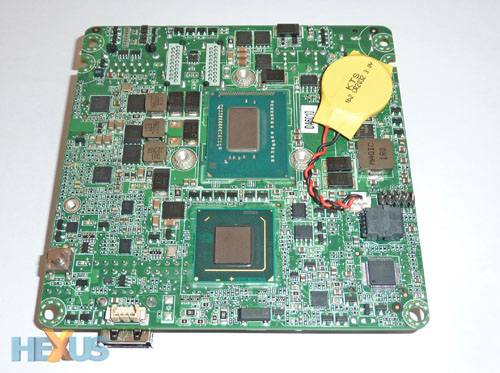 Flip it over and a mobile Core i3 chip and accompanying platform controller hub (PCH) dominate the backside. In the example shown above, Intel is using an ultra-low-voltage Ivy Bridge processor with built-in HD 4000 Graphics. Having good-enough integrated graphics means that Intel does not need to invest board space in housing a discrete GPU.
Intel says that NUC is ideally suited for a number of different processor cores, from low-power Atoms to powerful Core i7 chips, and the exact configuration will depend upon the customer's requirements. Quiet-computing aficionados will be disappointed to learn that, somewhat inevitably, the NUC has an active fan inside, though Intel says it's 'whisper-quiet' at all times.
On the model I saw outputs include a trio of USB 2.0 (where's USB 3.0?), two HDMI and Ethernet, but Intel is to offer a version which replaces one of the HDMI and Ethernet with new-fangled Thunderbolt connectivity. Why would a small box like this have two HDMI in the first instance, you may ask? The reason rests with the ability of the graphics to output two different streams concurrently, something which is useful in the digital-signage market.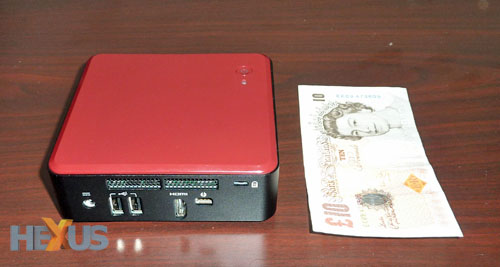 But a bare platform isn't much good without a chassis, especially if the PCB is, as in this case, non-standard in size. Intel is providing a chassis that's marginally larger than the PCB itself. Power to the unit, which is reckoned to be below 20W, will be provided by an external adapter. Conveniently, the chassis also includes VESA mounts for back-of-the-monitor fixing.
Intel further reckons that a barebone NUC - PCB, chassis, and external supply - will cost around $400 when released next month. You'll have to add the cost of an mSATA SSD, WiFi card and memory on top, obviously, and it'll push costs up by a significant margin, especially if you choose a Windows installation over also-supported Linux.
Equally suited for industrial applications and home-cinema duties, is it worth at least 30 of those lovely tenners, or is it an overblown Raspberry Pi and VIA Nano/Pico-ITX competitor? You decide. I think that Intel needs to shave at least a third of that price to gain traction in the consumer market.