A new statistical report from IHS iSuppli projects a surge in popularity in all-in-one (AiO) PCs. Shipments of AiOs are expected to prop up the declining desktop PC market which is being battered from all sides; PC competition in the form of laptops and also competition from content consumption devices such as tablets, Smart TVs, consoles and smartphones.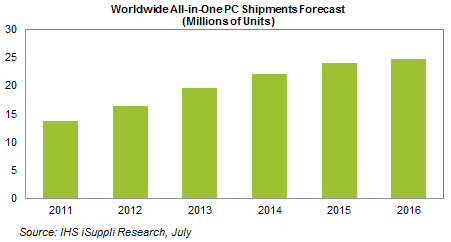 All-in-one PCs, as the name may suggest, integrate the CPU, memory, storage and other components into the screen casing. Combined with a wireless mouse and keyboard combination, the only wire you definitely need is a power cable. An AiO PC will save desk space and look tidier due to the elimination of most cable spaghetti. The commonly used ODD and the I/O ports are usually placed on the sides of the unit, also tidy and convenient. "The AiO PC is especially appealing to consumers that have been waiting for a desktop-monitor combo that not only combines the strengths of a traditional desktop system but also offers a few more extras typical of the new versatile devices, such as a flexible form factor, a large screen size and touch-screen optical technology" explained Craig Stice of IHS iSuppli.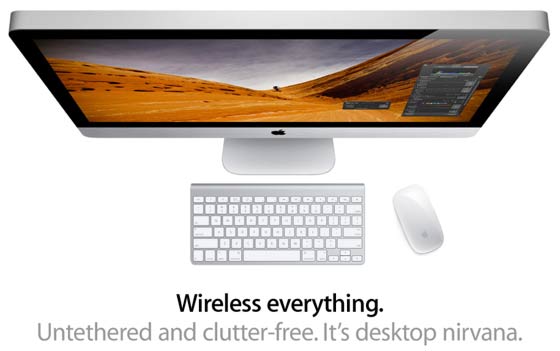 IHS iSuppli forecast AiO shipments to reach 16.4 million units this year. This is a 20 per cent increase on last year's 13.7 million figure. Compare this to desktop PCs in general which will grow only 0.2 per cent to 123.3 million units this year. Looking forward, sales of AiO PCs are expected to grow to nearly 25 million units per annum in 2016. IHS iSuppli say that the continued growth of AiO shipments could save the desktop PC market from decline in the face of all the other digital content creation and consumption devices we have available.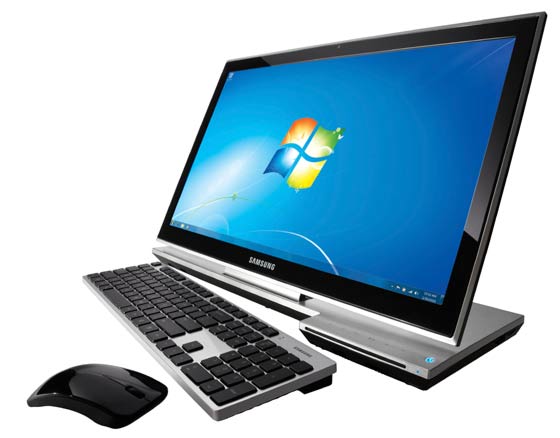 When choosing a PC customers have to weigh up many factors, it seems like PC makers are starting to get the mix of components and price appealing enough now to win people over from traditional desktops which usually offer the best performance and utility. If buying an AiO is less of a performance compromise and it has a much greater visual appeal the buying decision will tip in the favour of the AiO system. It's in a PC maker's interest to popularise less upgradeable AiO machines as the shorter life cycle means earlier repeat sales.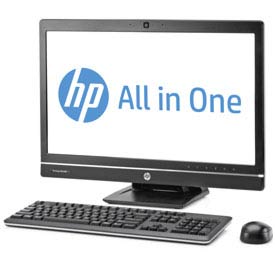 HP just launched a new range of AiO computers a couple of days ago, two for business users and two for the consumer market. Emilio Ghilardi, vice president of HP PC Division USA explains the appeal of these AiO computers in an accompanying statement; "Customers have been asking for all-in-one PC designs that do not compromise on performance, reliability or security. With these sleek, elegant designs and powerful options, HP continues to innovate to meet the needs of a growing marketplace." However looking at the photos of the new HP machines they aren't as visually appealing as the Apple and Samsung efforts I also pictured in this article.
The current best seller AiO is the Apple iMac with a 28 per cent share of the market. The top five AiO chart also includes; 2. Lenovo, 3. Dell, 4. HP and 5. Sony.