IBM's Sequoia supercomputer has leapfrogged the incumbent K Computer, made by Fujitsu, to become the world's fastest supercomputer. The Sequoia has a whopping 16.32 petaflops at its disposal, meaning it can do over 16 thousand trillion calculations per second. The new supercomputer chart, the 39th bi-annual supercomputer list, was published today at the 2012 International Supercomputing Conference in Hamburg, Germany.
The Sequoia BlueGene/Q, Power BQC 16C 1.60 GHz, Custom supercomputer will be used to do simulations of aging nuclear weapon tests, avoiding real-world tests of the devices. The number one position for the new IBM machine comes after months of planning, Dave Turek VP of deep computing at IBM, told the BBC "Substantial planning went into this. We knew the day would come".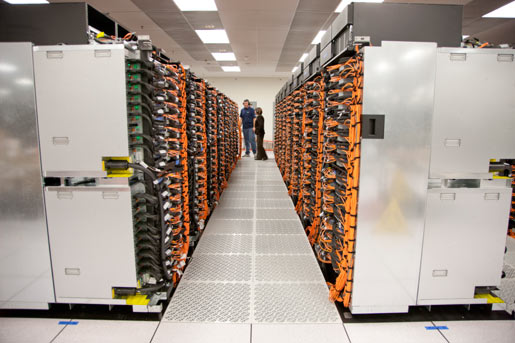 The Sequoia machine is more than 1.5 times faster than the Fujitsu K computer, SPARC64 VIIIfx 2.0GHz, Tofu interconnect which it has just overtaken to take the number one spot. Also, even though it uses more than double the amount of CPUs, the power consumption is only 7.9 megawatts compared to the Fujitsu's 12.6 megawatts. Compared to the leading machine on the first supercomputer chart compiled in 1993 (the Thinking Machines CM-5/1024) the Sequoia is an incredible 273,930 times faster.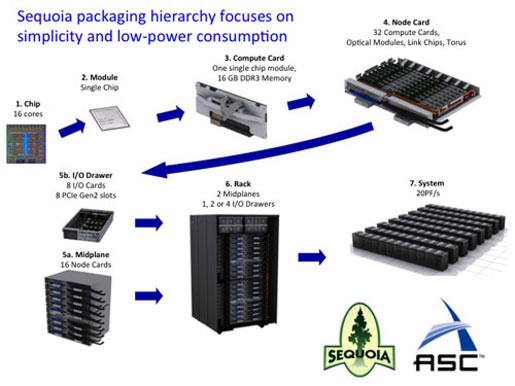 You can find the full top 10 supercomputer list at top500.org. Below is a chart comparing the IBM Sequoia with the Fujitsu K Computer;
| | | |
| --- | --- | --- |
| | | |
| Performance | 16.32 petaflops | 10.51 petaflops |
| Architecture | 45nm IBM Power | 45nm SPARC64 VIIIfx |
| Cores | 1,572,864 | 705,024 |
| Power usage | 7.9 megawatts | 12.66 megawatts |
As you can see above neither of the top supercomputers uses Intel processors. If you look at the top 500 list, the first Intel powered machine to feature is at the number four spot, the amusingly named SuperMUC - iDataPlex DX360M4, Xeon E5-2680 8C 2.70GHz, Infiniband FDR. However 372 of the top 500 supercomputers do use Intel processors, the next most popular is AMD Opteron with 63 systems and IBM Power in third position with 58 systems. In the top 10 there are two supercomputers that use NVIDIA GPUs in conjunction with Intel XEON processors to accelerate their calculations. IBM is the manufacturer of 213 of the top 500 systems (42.6 per cent) and HP made 138 of them (27.6 per cent).
The reduction in power usage alongside the increase in performance is very encouraging. The Fujitsu K Computer, for example, has been using US$10 million of electricity per annum to operate.