Remember when U.S. system integrator iBUYPOWER started to build systems around Thermaltake's notorious Level 10 chassis?
Well, if you've already stumped up the cash and bought one, we've some bad news as it's now available with Asetek liquid cooling at no additional charge.
Due to Level 10's unique compartmentalised design, it technically restricts the installation of most closed-loop water-cooling kits. Fortunately for those who'll accept nothing less, the folks at iBUYPOWER and Asetek have put their heads together and created an adapted version of the latter's 120mm LCLC (low-cost liquid-cooling) system that squeezes in without kicking up a fuss.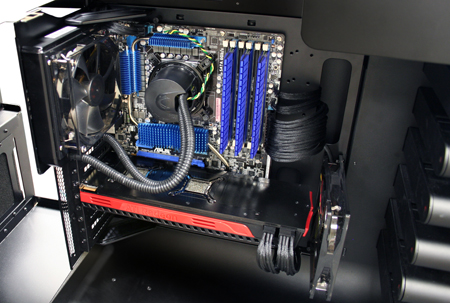 Asetek, as expected, reckons its Level 10 solution is "thermal management done right", and iBUYPOWER has a nice little incentive for buyers - making the LCLC cooling solution free via a mail-in rebate.
Though, free is a relative term as the starting price for the company's high-end Level 10 system is a substantial $2,599. Then again, it's something of a treat for U.S. consumers as UK shoppers can expect to pay over £500 for the Level 10 chassis alone. Considering the fact that iBUYPOWER throws in an X58 motherboard, a Core i7 CPU, 6GB of DDR3 memory, an ATI Radeon HD 5870, a 128GB solid-state drive and liquid cooling, it's almost a steal at around £1,700 British pounds. Shame iBUYPOWER doesn't ship to the UK.