ASUS has launched plenty of Eee PC netbooks in the past few months, but news has been quiet on the desktop front - particularly in regards to the "Eee Monitor" pictured back in July.
The all-in-one addition to the Eee range has since been dubbed the Eee Top, and has now popped up for pre-order from Play.com and Clove.co.uk at a cost of £399.99.
The Eee Top - scheduled for release on November 20th, according to Play - provides a 15.6in touchscreen display and Microsoft's Windows XP operating system.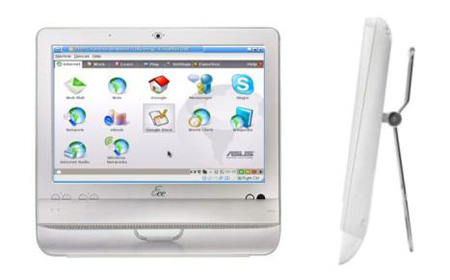 Keeping true to the Eee brand, Play.com's specifications state that ASUS has used Intel's 1.6GHz Atom processor and its 945GSE northbridge and ICH7M southbridge. There's 1GB of RAM, a 160GB 5,400rpm hard-disk drive and onboard graphics with 128MB of shared memory.
The system provides a built-in 1.3 megapixel webcam with microphone, and built-in 2 x 4watt stereo speakers. Connectivity comes in the form of Ethernet, Wi-Fi, six USB ports and a memory card slot. Add in the bundled keyboard and mouse, and you've got a trendy-little system that might just catch on.
The etailer specifications, of course, should be taken with a grain of salt and we're still missing important information. There's no mention of the screen's resolution, or an optical disc drive. The touchscreen is also only listed as a single-touch device, no multi-touch goodness to be found here.
We'll await further details from ASUS, but it looks as though the Eee Top is a little over a month away and scheduled to arrive in stores before the Christmas period.