Though many third parties have produced passively cooled NUC chassis, systems and NUC-a-likes, Intel has for the first time revealed its own fanless NUC code-named Austin Beach. The chassis, system boards and compute elements are detailed via links from the new Intel NUC Elements sales tools and marketing assets page.

Intel NUC 8 Elements allow quite a bit of customisation in putting together a computing solution. To create a tailored system you choose the NUC Compute Element, and then a NUC Board Element or a NUC Chassis Element. Your Compute Element choice is wide, with a "full range of Intel processors" on offer, from Celeron to Core i7 and vPro options. Then you can opt for a choice of NUC Pro board and assembly, or an Intel NUC Rugged Board Element and Intel NUC Rugged Chassis Element.

Focussing upon the Austin Beach chassis, this is described as a fanless, dust-resistant chassis with I/O board installed, and with a preliminary IP50 rating. It is qualified for 24/7 operation, and offers a delayed AC start plus DC overvoltage protection. The metal ribbed chassis, which acts as a passive cooler, is VESA mountable, has a zero to 40 degrees C ambient operating temperature, mechanical support for PSUs, external dipole antennas, and a Kensington lock slot.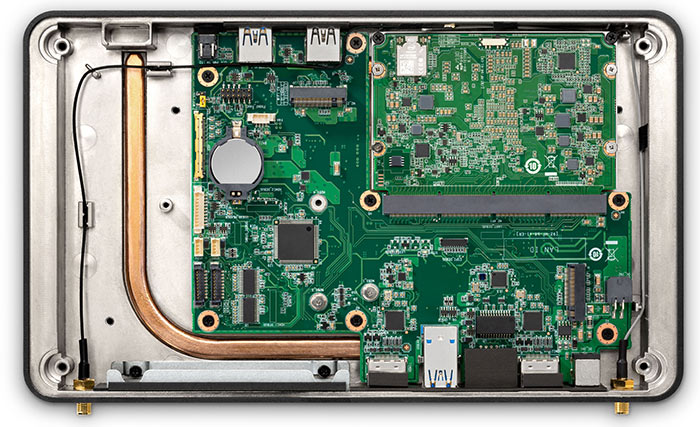 Inside there is expandability afforded by dual M.2 22x80 key M slots for PCIe x4 NVMe and SATA SSDs, up to 2x HDMI 2.0a ports, up to twin GbE-LAN, a selection of USB ports front and back (including USB 3.1 gen 2 Type-A), twin RS232 serial port headers, and up to 7.1 surround sound output via HDMI. The CPU you choose, as well as the RAM, is soldered onto the board module you choose. Intel reckons that buyers will swap out the 95 x 65 x 6mm NUC Compute Element module inside to upgrade this machine.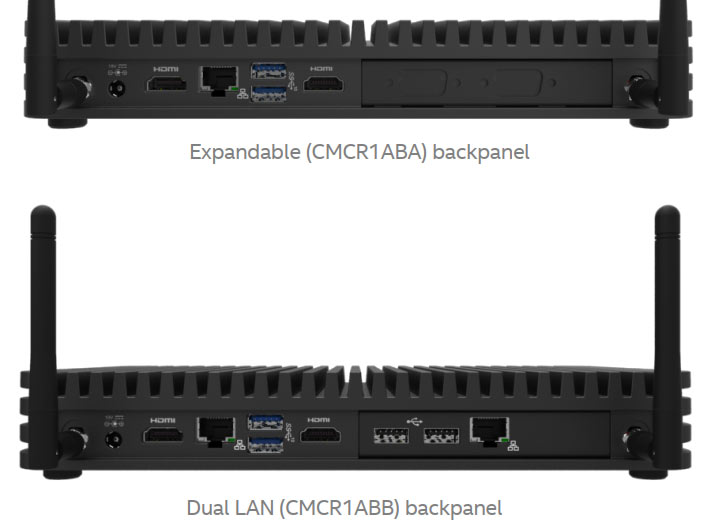 An Austin Beach NUC is somewhat larger than a traditional NUC design. The ruggedized machine measures 254 x 152.4 x 36mm (10 x 6 x 1.4-inches) plus 5mm rubber feet and any room required for Wi-Fi antenna rotational positioning (f required).
Looking through the specs and characteristics of these machines it is easy to conclude that they are aimed at the industrial, enterprise, and similar markets. At the time of writing we don't have availability details or indicative pricing for the various components and models.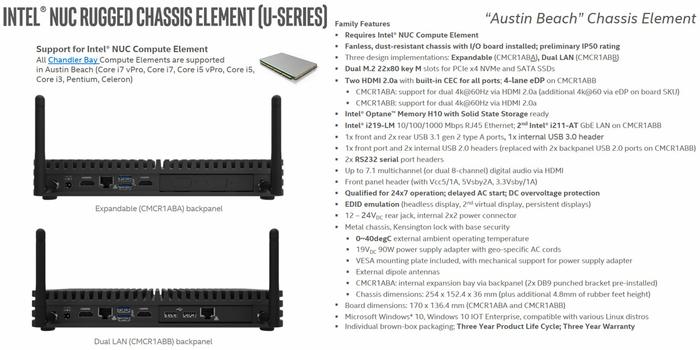 click to zoom image
Initial lineup:
BKCM8CCB4R – Celeron 4305U (2-cores/2-threads) / 4GB LPDDR3 / 64GB eMMC storage
BKCM8PCB4R – Pentium Gold 5405U (2-cores/4-threads) / 4GB LPDDR3 / 64GB eMMC storage
BKCM8i3CB4N – Core i3-8145U (2-cores/4-threads) / 4GB LPDDR3
BKCM8i5CB8N – Core i5-8265U (4-cores/8 threads) / 8GB LPDDR3
BKCM8v5CB8N – Core i5-8365U w/vPro (4-cores/8 threads) / 8GB LPDDR3
BKCM8i7CB8N – Core i7-8565U (4-cores/8 threads) / 8GB LPDDR3
BKCM8v7CB8N – Core i7-8665U w/vPro (4-cores/8 threads) / 8 GB LPDDR3
Sources: Intel, via FanlessTech, and Liliputing.