There's already plenty of high-end enthusiast gaming systems on the market, but there's always room for one more. The latest, from Taiwanese manufacturer, Acer, is the Aspire Predator.
As is always the case when targeting the most hardcore of hardcore gamers, you need a chassis that screams "I'm more beastly than an Alienware!" and Acer, then, has accomplished just that: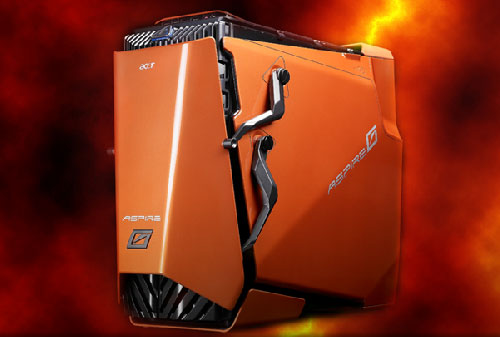 The orange and black Predator, pictured above, is about as hardcore-looking as they come, and it isn't all looks either. Predator, utilising NVIDIA's nForce 780i chipset, will feature a choice of Intel Core 2 Quad processors, and you'll be able to feed it up to 8GiB of RAM. There'll be a choice of up to three NVIDIA GeForce 9800 GTX graphics cards and up to four hot-swappable SATA hard disks, including the new Western Digital Velociraptors.
The transformer-esque front panel lifts up to reveal what Acer calls "a fierce high-tech wonder, complete with blue LEDs and claw-like ODD doors". The feature list doesn't stop there, either. There's also a two-part liquid cooling system, Creative's Sound Blaster X-Fi for your audio needs, a TV tuner, the option of a Blu-ray drive, DualLAN technology, and a good ol' 14-in-1 card reader. Phew!
Acer is using the tagline of "Faster. Deeper. Harder. Further" to market its new system. Tell that to your partner, and she might just let you buy it.
Reports indicate that Predator will land in June, and though no price has yet been announced, we'd expect you'd need to start saving now.
Official product page: Acer.com/Predator