Shuttle has launched a pair of new 3-litre mini-PCs with immediate availability. The new Shuttle XH310 and XH310V offer almost exactly the same specification but the 'V' suffixed model has front flaps to cover the ODD bay and front connector ports, giving it a less fussy appearance (perhaps a better option for HTPC). Support for 8th generation Intel Core processors is provided via the built-in Intel H310 chipset motherboard. Other headlining features are; the provision of HDMI 2.0, Dual Gigabit ports, and remote power-on support.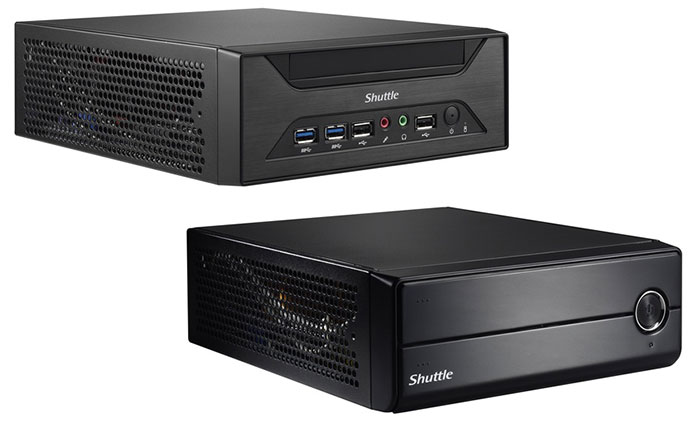 Shuttle XH310 (top) and XH310V
"The technical specifications of the two models resemble those of a large PC," said Tom Seiffert, Head of Marketing & PR at Shuttle Computer. "Three monitor ports, dual LAN and free choice of drives provide flexibility for (almost) any application."
These 3-litre mini-PCs are Shuttle largest in the category and thus the most flexible for connectivity and building into. Measurements are 23.8 x 20 x 7.25 cm (L/W/H). The firm says buyers can configure 8th gen Core processors up to 65W (thanks to the built-in heatpipe and twin 60mm fan cooling system) up to 32GB DDR4 RAM (2x SODIMM slots, supports up to 2666MHz speeds), 1x slimline ODD, 2x 2.5-inch SATA HDD/SSD, 1x M.2 2280 drive, and 1x M.2 2230 WLAN device.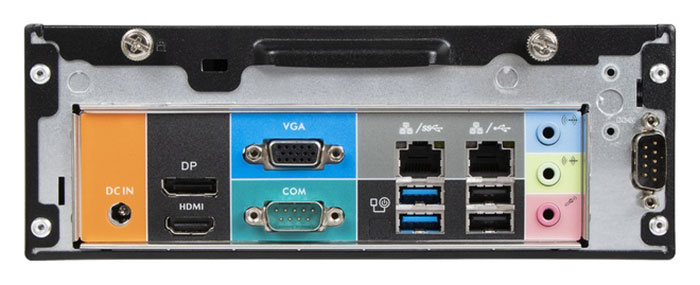 Ports aplenty feature, some on the front for convenience; HDMI 2.0a + DisplayPort 1.2 + D-Sub/VGA, 5.1 HD Audio (digital audio via HDMI/DP), headphone, microphone, 4x USB 3.0, 4x USB 2.0 (each 2 front, 2 rear), 2x Intel Gigabit LAN, 2x RS232 (1x RS422/RS485).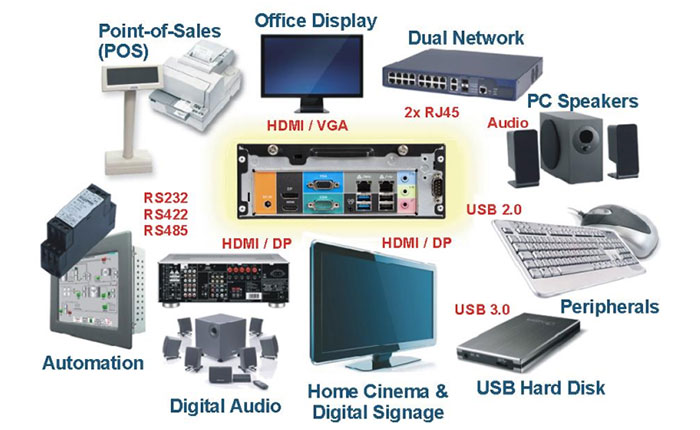 The Shuttle XH310/V can be combined with the following accessories; a stand for vertical operation (PS01), a VESA/wall mount (PV02), a 3.5" drive frame (PHD4), a WLAN kit with Bluetooth (WLN-M) and a cable for the remote power-on connection (CXP01). Lastly the XH310 can be equipped with three additional COM ports (PCM31).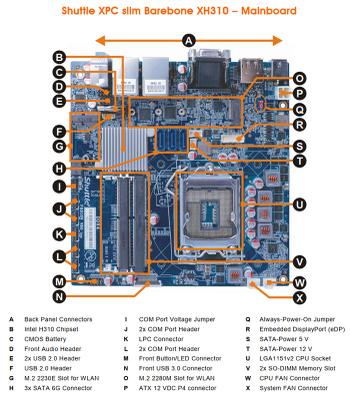 click to zoom diagram
Shuttle says that the XPC Barebone XH310 and XH310V are EUR 192.00 (ex VAT) each, and are available immediately from the usual specialist retailers Europe-wide.