Intel has officially announced its latest Coffee Lake-U NUC kits (formerly code-named Bean Canyon), and its Cannon Lake NUC Mini PCs (formerly code-named Crimson Canyon). There are five new standard NUC kits and two new NUC Mini PC's. Something of note is that the two NUC Mini PCs are the first mainstream NUCs from Intel to come packing discrete graphics and are thus capable of 1080p eSports style gaming.
New Intel NUC kits
The new NUC8i7BEH, NUC8i5BEH, NUC8i5BEK, NUC8i3BEH, NUC8i3BEK are based on the 8th Gen Intel Core i7, i5 and i3 processors (formerly code-named Coffee Lake-U) and feature Intel Iris graphics with eDRAM. Intel suggests that that are suitable for home theatre systems, content creators, and/or as personal voice assistants.

As these are kits, they are essentially barebone devices to which you add your own storage, memory and operating system. So, of course you can decide and choose to configure your NUC to fit your budget and purpose.
New Intel NUC Mini PCs
As mentioned in the intro these are the first mainstream NUCs to come packing discrete graphics. The NUC8i3CYSM and NUC8i3CYSN are powered by the 8th Gen Intel Core i3-8121U processor and are differentiated by the varying amounts of RAM fitted (4GB or 8GB).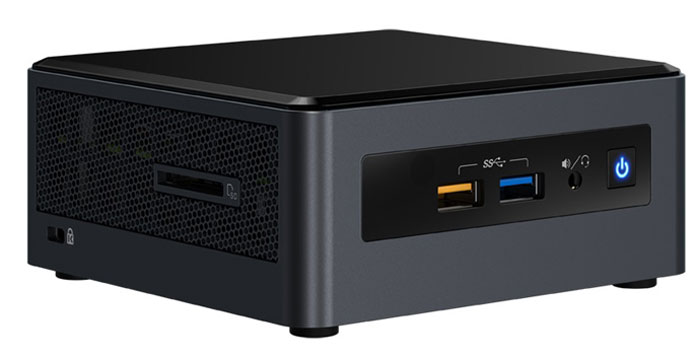 Intel has decided to fit a discrete AMD Radeon 540 GPU with 2GB of graphics memory. Thanks to this GPU, Intel claims that the NUC Mini PCs are capable of mainstream gaming at 1080p in popular titles such as League of Legends, TF2, and CS:GO.
Other standard features of these fully kitted out and ready-to-go PCs are; 1TB of storage, Intel's Wireless-AC 9560 CNVi 802.11ac Wi-Fi + Bluetooth 5 solution, two HDMI 2.0a outputs, and four USB 3.0 ports, running on Windows 10 Home.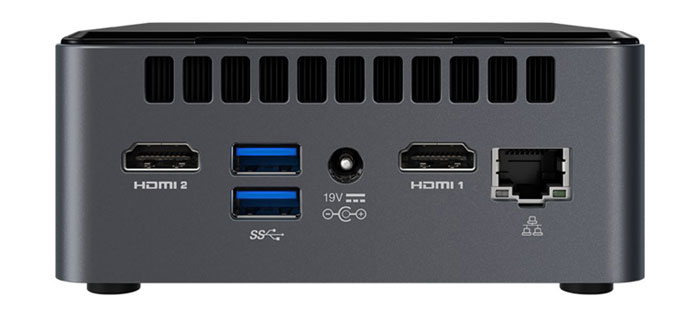 Intel says that its new NUC kits and NUC mini PCs will be available worldwide through beginning from September. We don't have any indicative pricing at this time and unfortunately it is a little bit early for the product pages to go live at Intel.com. However, if you are particularly interested in these products you can check back at the dedicated NUC portal, for further details which are likely to be published soon.