Earlier this year the Intel Hades Canyon NUC was launched, and it was reviewed here on HEXUS. That was the first 8th gen Core series processor packing NUC - but it was also a special edition of sorts, with its LED lit skull emblem, unfamiliar shape, and it came equipped with an AMD Radeon RX Vega-based GPU that made it stand out from any previous Intel NUC.
If you don't need the level of GPU performance that Skull Canyon delivers, and are waiting for the more sober, business-like 'traditional' (and cheaper) NUCs to appear with 8th gen Core processors, we have good news. Intel is advanced in its progress of readying mainstream 8th gen Core processor NUC machines and motherboards.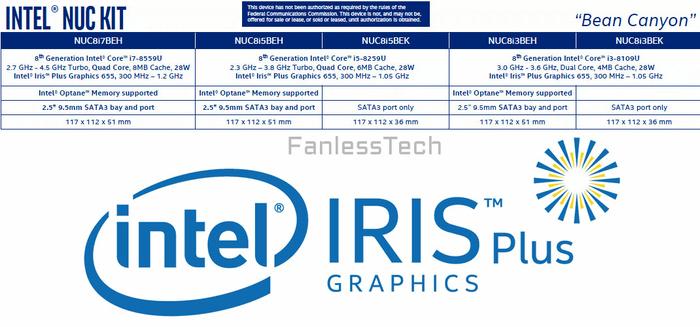 click to zoom in
Late last week, FanlessTech exclusively revealed a slide which lists the upcoming Bean Canyon NUC SKUs that Intel is preparing right now. You can see the slide above, which highlights that whatever SKU you choose it will come with Intel Iris Plus Graphics 655 with 128MB eDRAM. There are short and tall NUCs, as bullet pointed below. The taller models have additional room for a 2.5mm SATA3 drive up to 9.5mm thick.
NUC8i3BEK with Core i3-8109U (short)
NUC8i3BEH with Core i3-8109U (tall)
NUC8i5BEK with Core i5-8259U (short)
NUC8i5BEH with Core i5-8259U (tall)
NUC8i7BEH with Core i7-8559U (tall)
The above SKUs use one of the following three Coffee Lake CPUs:
Intel Core i3-8109U with 2 cores/4 threads, 3GHz base frequency/3.6GHz max turbo, 4MB cache, 300MHz – 1.05GHz GPU
Intel Core i5-8259U with 4 cores/8 threads, 2.3GHz base frequency/3.8GHz max turbo, 6MB cache, 300MHz – 1.05GHz GPU
Intel Core i7-8559U with 4 cores/8 threads, 2.7GHz base frequency/4.5GHz max turbo, 8MB cache, 300MHz -1.2GHz GPU
HEXUS reported on the launch of the above Intel Coffee Lake processors back in April.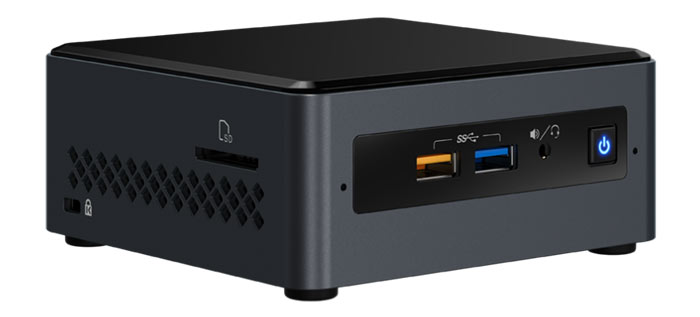 As FanlessTech points out, the above CPUs are all 28W TDP models, while previously traditional NUC designs came packing 15W processors. This fact, and the beefed up graphics, will help Intel position its latest NUCs as more capable desktop alternative machines. If you only want the bare board you can opt for the NUC8i3BEB and NUC8i5BEB which come with Core i3 and i5 CPUs pre-installed, respectively.
At the time of writing we don't have further details about the new NUC pricing or availability.