On what a certain segment of society refer to as 'Pi Day', the Raspberry Pi Foundation has launched the Raspberry Pi 3 Model B+. As is usual with RasPi product launches, the hardware is available immediately and at the same price as the predecessor device. This is the best RasPi ever in terms of performance and the Foundation has made key changes in a number of areas which will be immediately appreciable.
Many a computer device user will have a thirst for 'moar power' and the new Raspberry Pi 3 Model B+ delivers this on the computational front by installing a faster Broadcom BCM2837B0 64-bit quad-core ARM Cortex-A53 CPU. With the Raspberry Pi 3 Model B the same base processor was used, running at 1.2GHz, but now it runs at 1.4GHz out of the box (thanks to the latest B0 revision). It isn't simply overclocked, the updated BCM2837B0 "incorporates power integrity optimisations, and a heat spreader," explains the RasPi blog. With these optimisations it is possible to either reach higher clock frequencies, or to run at lower voltages to reduce power consumption.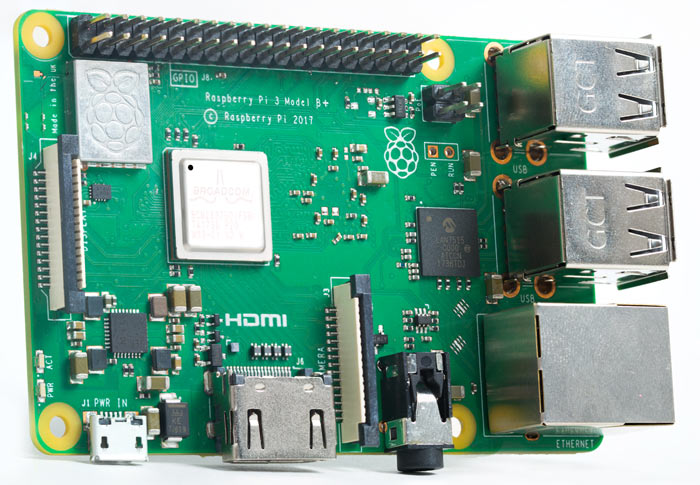 Both wired and wireless networking have also been given a speed injection in the B+. For Ethernet the upgraded LAN7515 chip is used to deliver Gigabit Ethernet support. Furthermore, the magjack port hardware supports Power over Ethernet (PoE). A PoE HAT will shortly be launched to provide the 5V required.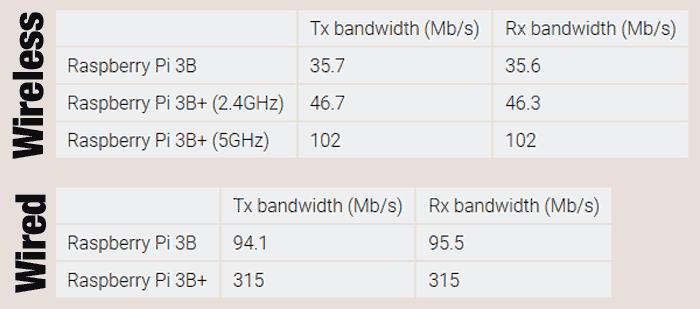 Considering the wireless improvements - the new B+ uses the Cypress CYW43455 'combo' chip, connected to a Proant PCB antenna similar to the one used on Raspberry Pi Zero W. It provides incremental improvements in Wi-Fi speeds 2.4GHz band, but far better performance in the 5GHz band. In the product shot you can see the wireless circuitry is installed beneath an embossed metal shield. For makers that is a very positive change as it allowed for the entire device to be certified as a radio module under FCC rules - with a significant reduction in the cost of conformance testing Raspberry Pi-based products as a knock-on effect.
Elsewhere there are improvements to power management and thermals for better sustained performance levels. It must be noted that the Raspberry Pi 3B+ consumes "substantially more power than its predecessor," and thus a high-quality 2.5A power supply is recommended.
Raspberry Pi 3 Model B+ tech specs
Broadcom BCM2837B0, Cortex-A53 (ARMv8) 64-bit SoC @ 1.4GHz
1GB LPDDR2 SDRAM
2.4GHz and 5GHz IEEE 802.11.b/g/n/ac wireless LAN, Bluetooth 4.2, BLE
Gigabit Ethernet over USB 2.0 (maximum throughput 300 Mbps)
Extended 40-pin GPIO header
Full-size HDMI
4 USB 2.0 ports
CSI camera port for connecting a Raspberry Pi camera
DSI display port for connecting a Raspberry Pi touchscreen display
4-pole stereo output and composite video port
Micro SD port for loading your operating system and storing data
5V/2.5A DC power input
Power-over-Ethernet (PoE) support (requires separate PoE HAT)