Earlier today you may have read through all the latest information about the new Intel 8th Gen Core chips with AMD Radeon RX Vega graphics, from CES 2018. The editor shared a rundown of the architecture behind the new SoCs, some essential overview slides, and some preliminary benchmarks (Intel in-house testing). These Intel chips, with integrated AMD graphics, are highly anticipated and from what was shared earlier show significant promise for 1080p laptop gaming. Furthermore, the Intel benchmarks show the faster Core i7-8809G beats a Core i7-770HQ combined with a GeForce GTX 1060 Max-Q GPU (often listed as an entry level VR-ready GPU).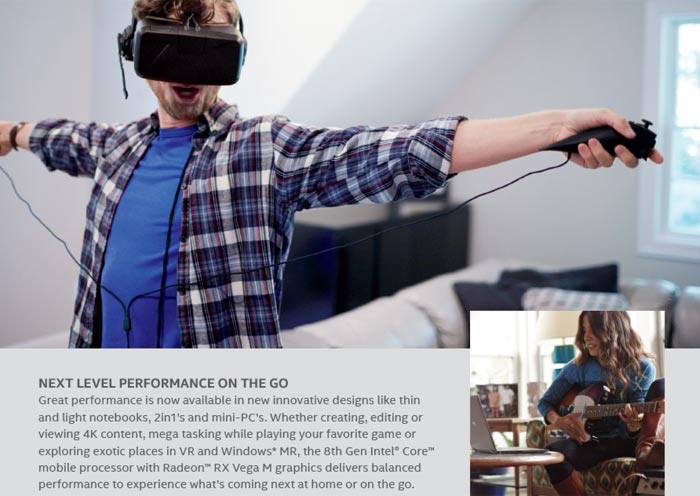 Of course the useful scope of Intel's Core G-series goes beyond laptops, and today Intel has launched new NUCs to prove it. There are two models launched today; the NUC8i7HVK, and NUC8i7HNK - and they differ only by the SoC that is preinstalled. The NUC8i7HVK is the most powerful of the pair and comes packing Intel's 8th Generation Core i7-8809G, running at 3.1GHz to 4.2GHz Turbo, Quad Core, 8MB cache, 100W, with Radeon RX Vega M GH graphics at 1063MHz –1190MHz. This is an unlocked processor and the resulting machine is claimed to be "VR-capable".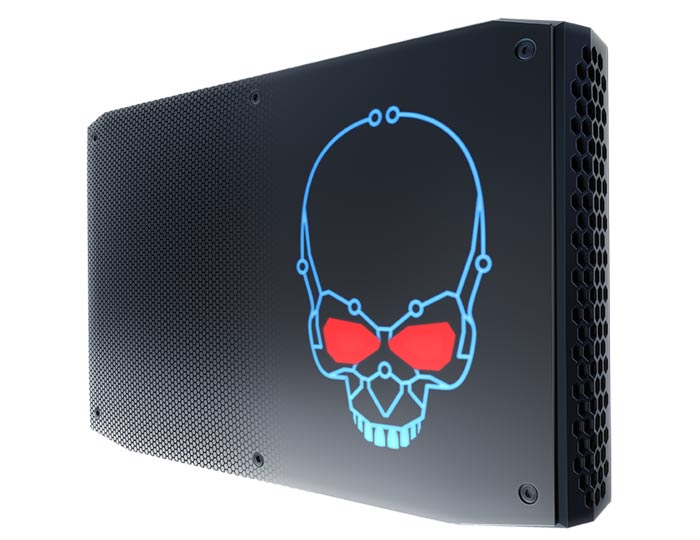 There are RGB LEDs behind the skull
The second machine is based upon the 8th Generation Intel Core i7-8705G processor 3.1GHz to 4.1GHz Turbo, Quad Core, 8MB cache, 65W, with Radeon RX Vega M GL graphics, 931MHz –1011MHz. The processor is multiplier locked and graphics are clocked somewhat slower. As you will know from the earlier article about these Intel Core G-series processors, Vega M GL graphics parts only have 1280 SPs compared to the 1536 SPs active in the Vega M GH parts like the Core i7-8809G.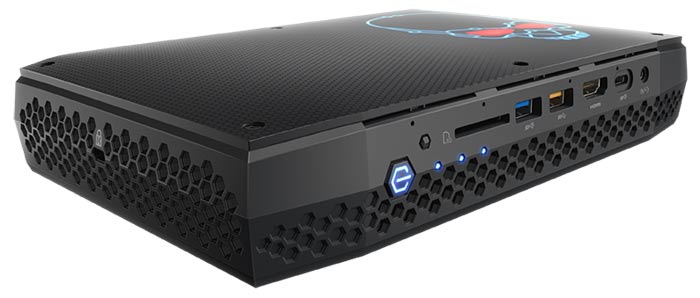 Intel's new 1.2 litre NUC systems have plenty of cutting-edge modern features to support their powerful G-series processors. Both offer dual Thunderbolt 3 ports, dual Gigabit Ethernet ports, can drive six monitors simultaneously, plus include an HDMI port on the front panel for easy VR headset connection.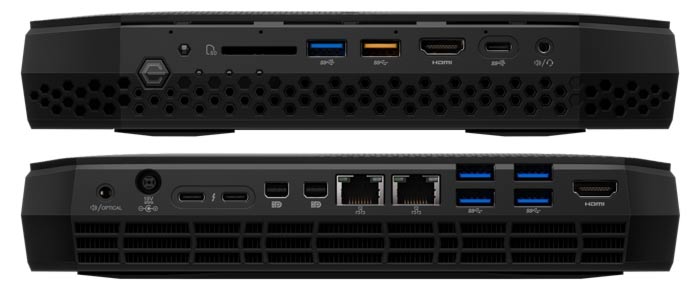 These 'Hades Canyon' NUCs are sold as barebones systems, so you have to source your own RAM (dual-channel DDR4-2400 max 32GB), storage (2x M.2 (SATA3 or PCIe x4 Gen3)), and then install the OS of your choice - to make a usable system to hook up to your monitor(s) and peripherals. Full specs can be found in the table below. At the time of writing we don't have pricing or availability data but you might find them on the official microsite shortly.