Today HP has announced several updated products which will be added to its OMEN gaming PC range. Said to be "re-designed and re-engineered from the ground up," the new lineup includes; the adaptable OMEN X Compact Desktop, the OMEN Desktop, the OMEN backpack and OMEN Accelerator accessories, the new OMEN 15 and OMEN 17 laptops, plus new OMEN displays and peripherals.
Desktops
HP has a pair of new desktops for the pre-built gaming PC system market. The first system is particularly interesting with its compact form factor, docking capabilities and VR-backpack readiness. The OMEN X Compact Desktop, pictured below, will be available in EMEA in August starting at £2,499.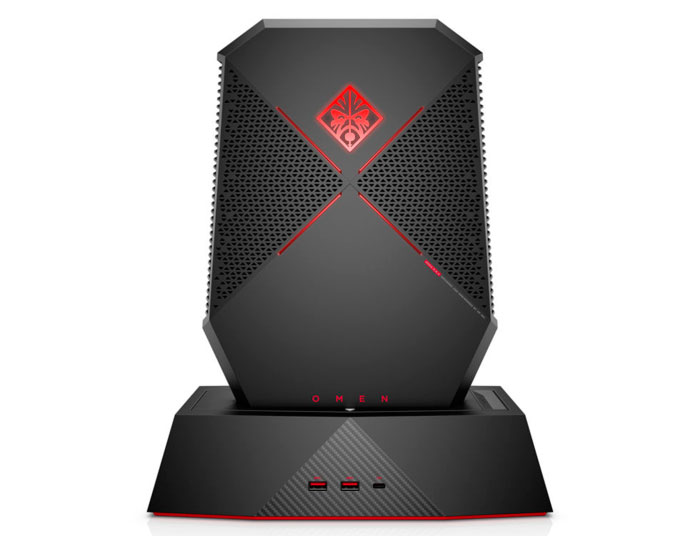 The HP OMEN X Compact Desktop includes a factory-overclocked Nvidia GeForce GTX 1080, and 7th gen unlocked Intel Core i7 CPU options. Its compact form leverages advanced thermal and electrical engineering. Interestingly its design makes it highly suitable for the basis of a VR Back Pack PC which can be returned to desktop use swiftly thanks to full docking capabilities.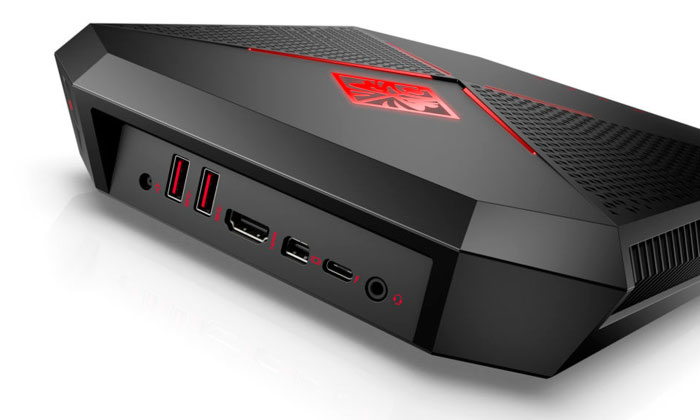 Official product highlights of the HP OMEN X Compact Desktop are as follows:
Full docking capabilities allow gamers to simply drop the OMEN X into the included docking station and instantly connect to a range of their favorite gaming accessories without worrying about a mess of multiple cables.
Hot-swappable batteries enable extended VR sessions without shutting down the PC, so gamers don't have to wait to keep playing. HP includes four batteries and a charging dock with the backpack accessory so users can charge two batteries while using the other two simultaneously. Additionally, the convenient placement of the batteries on the backpack harness means never having to remove the backpack to swap the batteries.
The strategic placement of fan exhaust and an angled mounting plate positions the top of the PC and vents away from users to help reduce heat transfer to the body.
The backpack accessory includes shortened cables to keep gamers immersed and not worrying about tripping over long cables while locking cables and hooks hold the VR headset securely in place.
There's a new OMEN X full sized Tower PC too. The OMEN Tower will be available in EMEA in June starting at £999. This desktop system includes the following hardware and software features:
High-performance graphics up to dual Nvidia GeForce GTX 1080 Ti (SLI) or dual AMD Radeon RX 580 (Crossfire), for the graphics horsepower to run the most demanding games at maxed out settings and resolutions higher than 1080p.
7th gen Intel Core i5/i7 CPUs with unlocked options for overclocking, or overclockable AMD Ryzen CPUs for raw computing power to handle massive multiplayer games or serious multi-tasking.
Thermal engineering with all-around edge vents and optional liquid cooling, for more efficient heat dissipation and additional thermal headroom for overclocking.
Optional PCIe SSD or SSD+HDD storage options for quick responsiveness, fast bootup, game loading, and application installation.
OMEN Command Centre with Overclocking to improve CPU performance on the fly, and Network Booster to move gaming network traffic to the front of the line and reduce latency in online games.
Laptops
HP has redesigned these gaming laptops for 2017 with greater expansion possibilities, more ports and more VR power. As you will guess from the numeric suffixes the OMEN by HP 15 and OMEN by HP 17 laptops, are 15- and 17-inch gaming laptops respectively. The OMEN 15 and OMEN 17 laptops will be available in EMEA in June starting at £899 and £999.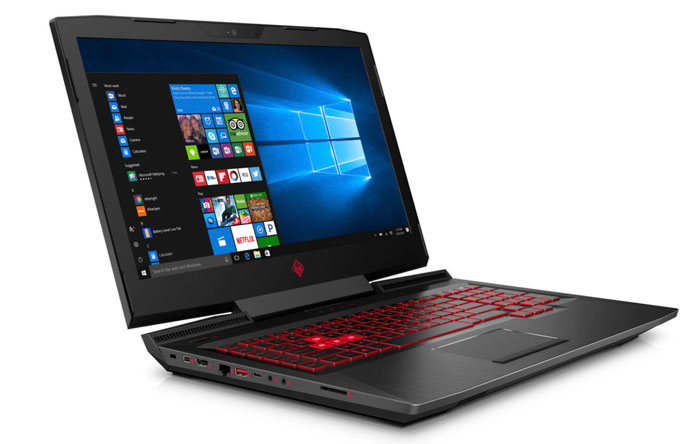 Key tech specs of the refreshed gaming laptops from HP include:
High-performance GPUs on the OMEN 15 up to Nvidia GeForce GTX 1060 with Max Q design for the graphics horsepower to run games at 1080p and beyond. The OMEN 17 can be configured with up to Nvidia GeForce GTX 1070 for the graphics horsepower to push games at 1440p and higher.
7th-gen Intel Core-i Quad Core CPUs for raw computing power to handle massive multiplayer games, serious multi-tasking or the latest eSports titles that require heavy lifting by the CPU to hit 100+ FPS
High-performance cooling on the OMEN laptops brings a multi-fan/multi-heat pipe/multi-exhaust thermal solution to keep things running cool and reduce the risk of throttling during heavy gaming sessions.
Play with DTS Headphone:X for 360 degree, immersive surround sound with any headset, or simply power up and use the integrated HP Dual Speakers with Audio by Bang & Olufsen. HP Audio Boost technology with a discrete amp brings improved volume.
Dragon-red backlit keyboard optimized for gaming with red accented WASD keys and white backlight for easy identification, 26-key rollover anti-ghosting function and separated, full-size arrow keys to help reduce accidental key presses
4K display option for high-resolution content playback, or a 120Hz 1080p display option for fast refresh-rates11 with Nvidia G-Sync
Easy upgradeability and accessibility with a single access panel to HDD, SSD, and RAM
VR-ready configurations available for exceptional gaming in virtual reality
Accessories
The OMEN Accelerator is another Thunderbolt 3 enabled external GPU enclosure and dock. It will be sold with a pre-configured AMD or Nvidia GPU, or 'barebones' with just the 500W PSU. Furthermore buyers can configure a 2.5-inch 1TB HDD or 256GB SSD. The unit offers single cable docking with 60W charge back to the PC, an easy-access door so you can change out graphics cards, hard drives, or SSD with minimal effort, plus a generous port selection with 4x USB 3.0 Type-A ports and 1x USB 3.1 Type-C and an RJ-45 for networking. The OMEN Accelerator will be available in EMEA in August starting at €299.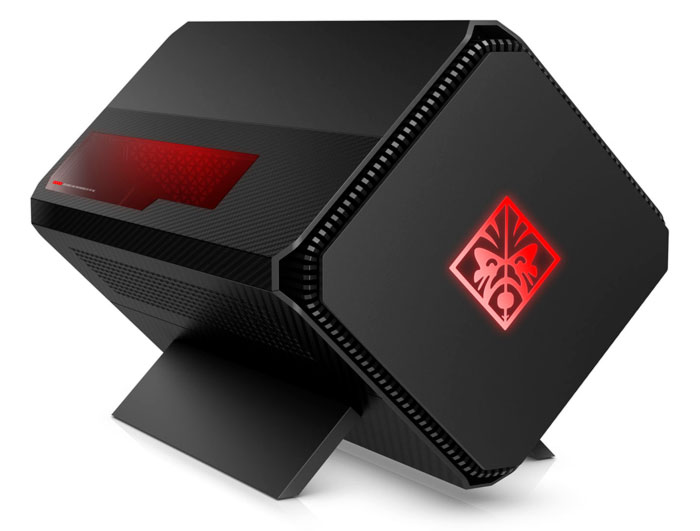 Enhancing its OMEN gaming product line further, HP has announced the OMEN 25 and OMEN 27 gaming monitors. Both feature overclockable 1ms TN display panels and a USB 3.0 hub. The OMEN 25 is a 1080p monitor with up to 144Hz refresh, supporting AMD FreeSync. Meanwhile the OMEN 27 has a 1440p panel with up to 165Hz refresh, supported by Nvidia G-Sync technology. The OMEN 25 and OMEN 27 displays will be available in EMEA in July starting at €329 and €849, respectively.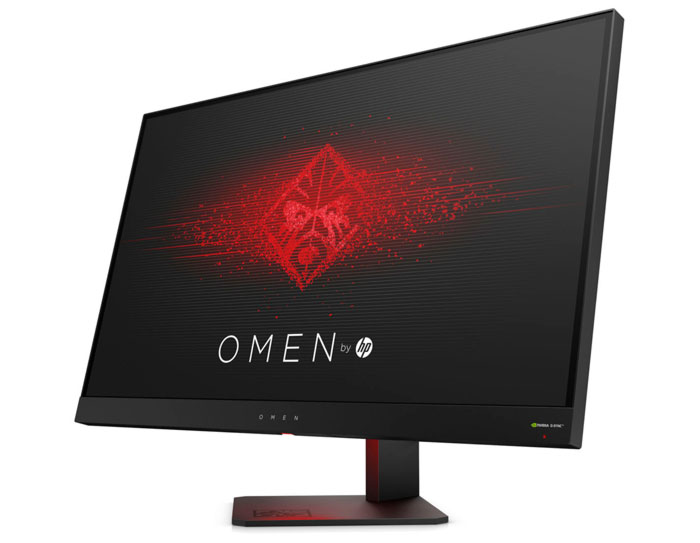 HP also announced a new mechanical gaming keyboard, gaming mouse, mouse pads, and gaming headset today to fill out its OMEN range.