At CES 2017 Intel has unveiled the Intel Compute Card. It is designed to bring computer power and connectivity "to virtually any product, anywhere," and is thus a very compact but modular design. However, it does contain all the elements of a full computer within its small and slim frame. Credit card sized is an often overused term but Intel does indeed get pretty close, with its 95 x 55 x 5mm device.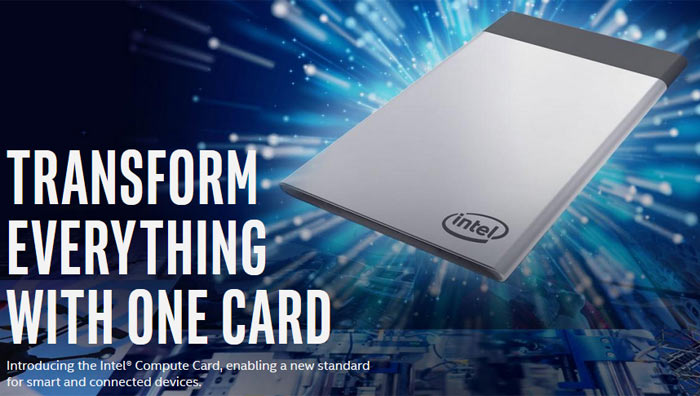 The Intel Compute Card contains an Intel SoC, memory, storage, and Wi-Fi / Bluetooth connectivity, with flexible I/O options available. We don't have a detailed spec list unfortunately, but users will be able to configure the card with a range of processors including the latest 7th Gen Intel Core processors with vPro. Thus makers will be able to choose from a range of Intel Compute Card solutions to fit their performance and price requirements.
Basic specs
Range of processors, up to 7th Gen Intel Core processors
Incredibly small at 94.5 x 55 x 5mm
Processor, memory, storage and wireless connectivity are all included in the card
Intel Compute Card-based device will provide the power, cooling and the optimized user I/O for that particularly solution
Connection to devices will be done via an Intel Compute Card slot with a new standard connector (USB-C plus extension)
USB-C plus extension connector will provide USB, PCIe, HDMI, DP and additional signals between the card and the device
It is envisioned it will be snapped up by hardware makers for deployment inside an array of things including; interactive refrigerators, smart kiosks, security cameras, and IoT gateways. Intel reckons this will help speed up innovation in smart and IoT connected machines around homes and businesses.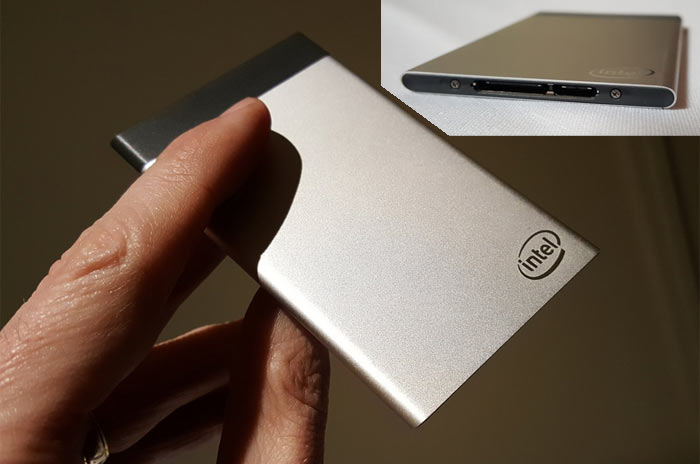 Pictures via BBC Click Twitter
So far Intel has signed up some pretty big names in consumer electronics to bring their future wares to market packing Compute Cards. Famous names dropped by Intel so far are; Dell, HP, Lenovo, Sharp, InFocus, DTx, and TabletKiosk.
Intel says that its Compute Card will start to become available from mid-2017.