The Flash Memory Summit kicked off in Santa Clara, California, yesterday and runs until tomorrow. One of the first interesting news titbits to emerge from the conference is from storage company Seagate. It used the event to launch a pair of new flash products; one a 60TB SAS SSD, another an 8TB NVMe SSD. Both are aimed at enterprise. These new products are being demonstrated at booth #505.
Seagate 60TB SAS SSD
Seagate claims its 60TB SAS (Serial Attached SCSI) SSD is the largest ever demonstrated. More specifically it says the 3.5-inch format drive offers "twice the density and four times the capacity of the next highest-capacity SSD available today". If you like 'equivalent to' figures, you could say this drive has enough capacity for around 400 million photos, or for a collection of 12,000 DVDs.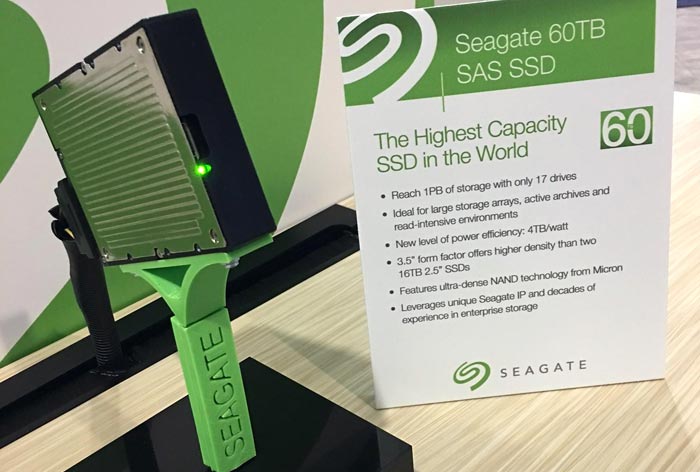 An HPE 'Big Data' exec was impressed with the new high capacity SSD, as his firm is always on the lookout for greater density in its all-flash data centre systems. "Seagate's new 60TB SAS SSD offers an exciting possibility for customers to achieve higher server storage performance and capacity configurations never seen before," said Mike Vildibill, VP of Advanced Technologies and Big Data, Hewlett Packard Enterprise.
Claimed performance specs quoted for this drive are; 1,500MB/s sequential read, 1,000MB/s sequential write, 150K random read IOPS, and a peak power usage of 15W. The drive is currently only a "demonstration technology", but is anticipated for release sometime in 2017.
Seagate 8TB Nytro XP7200 NVMe SSD
Seagate has purposed this NVMe SSD to address "the hyperscale needs of today's data centres seeking to easily grow with their data without losing the ability to quickly access and process it". The 8TB Nytro XP7200 NVMe SSD uses a single PCIe interface with 4x controllers on the card, accessing 4x 2TB Seagate XM1440 M.2 drives. It needs to be plugged into a PCIe x16 to be fully utilised.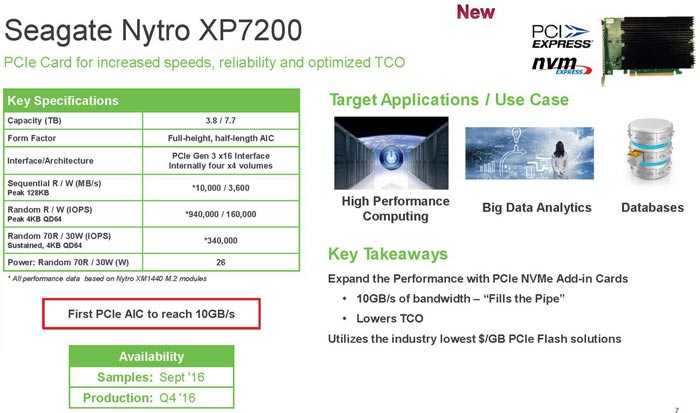 Performance specs for the 8TB Nytro are; 10,000MB/s sequential read, 3,600MB/s sequential write, 940K random read IOPS, 160K random write IOPS, and a peak power usage of 26W. It will become available through channel partners in Q4 2016.