If you haven't heard of BeSang Inc, it is the company that invented and licenses 3D monolithic chip technology to SK hynix. According to a report published by the EE Times, BeSang has become frustrated with SK hynix's "slow implementation of its monolithic 3D technology," and has thus started to open its doors to rival memory makers, and will now even contract-fab its latest architecture NAND memory chips for others.
2¢ per gigabyte
Now here's the eye catching part of this story: BeSang has announced (PDF) its 3D Super-NAND flash memory, which offers the lowest cost per bit in the NAND market by quite some margin. As you can see from the graphic reproduced below, BeSang claims this NAND provides a 10x cost advantage, with 10x less capital investment, and 10x more wafer throughput. Put into cost terms BeSang can facilitate 3D NAND production at about 2¢ per gigabyte, rather than the current industry norm of 20¢.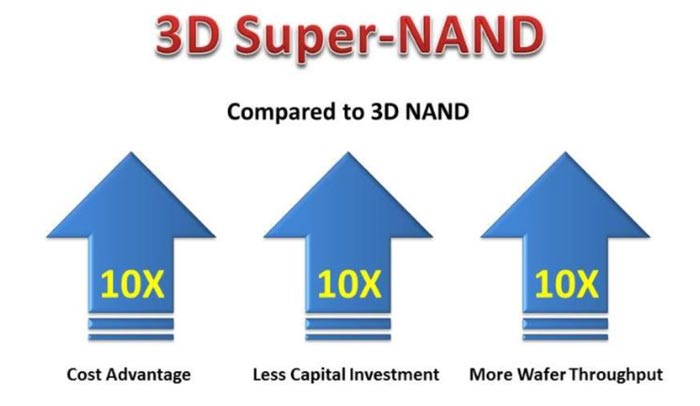 Dr. Yohwan Koh, former SVP and head of NAND business at SK hynix, and currently advisor at BeSang Inc, explained how BeSang streamlines the 3D NAND manufacturing process: "Other 3D NAND has sequential manufacturing process to build stacked memory layers, staircase bit line contacts, and periphery logic. It takes usually more than 10 weeks to complete manufacturing process. However, 3D super‐NAND takes only 5 days to complete advanced 3D non‐volatile memory cells thanks to parallel manufacturing".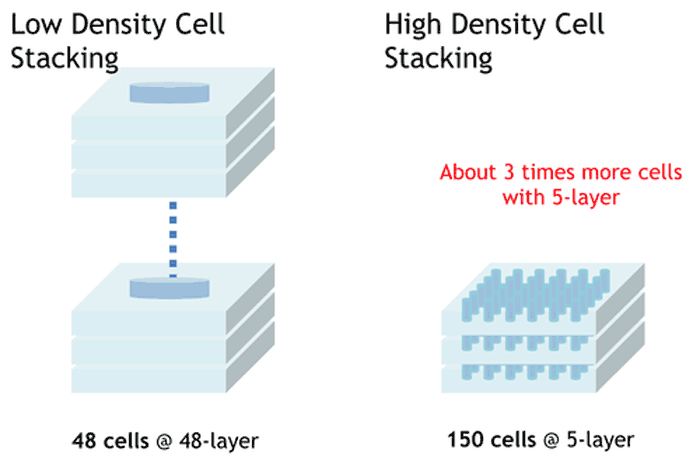 Samsung 48-layer 3D NAND (left), BeSang 3D Super-NAND (right)
Further explanatory quotes via EETimes reveal that BeSang's new monolithic 3D Super-NAND fits 30 bits in the same area as one bit in competitor processes. BeSang's design is simpler and more efficient, especially the way it implements staircase word-line architecture.

BeSang's new 3D Super-NAND isn't some pie in the sky research project. It is licensing its technology now and also offering turnkey delivery of 3D Super-NAND. Commercial customers can order 15nm or 20nm 3D Super-NAND chips with a minimum order value of $30 million. Furthermore, BeSang promises single-chip 1-terabyte 3D Super-NAND modules will be developed within two years from now.