Seagate has launched a sizable pair of HDDs this week; one for enterprise and one aimed at NAS users. The enterprise drive is a 10TB 3.5-inch device and is the firm's first product to use Helium technology. Meanwhile Seagate's 8TB NAS offering is said to be the largest capacity drive available for NAS owners.
Seagate 10TB Enterprise Capacity 3.5 HDD
This disk drive is said to enhance its high capacity appeal with the "industry's lowest power and weight available in a 10TB drive". A senior Seagate exec thought that the Helium filled product, a first for Seagate, would be welcomed by data-centric organizations worldwide, especially the likes of cloud-storage data centres.
Seagate says that the new 10TB drive is based upon the standard 3.5-inch CMR design and incorporates seven platters and 14 heads. The spinning disks, due to being contained in a Helium sealed environment, will benefit from being quieter, with reduced friction, and less spinning turbulence. Its reduced power usage will bring a lower TCO to those that deploy it.
The Seagate Enterprise Capacity 3.5 HDD offers an MTBF of 2.5 million hours and "provides consistent performance to customers in a 24x7 multi-drive environment". Seagate is now shipping this enterprise drive to customers, with a choice of 6Gb/s SATA and 12Gb/s SAS interfaces.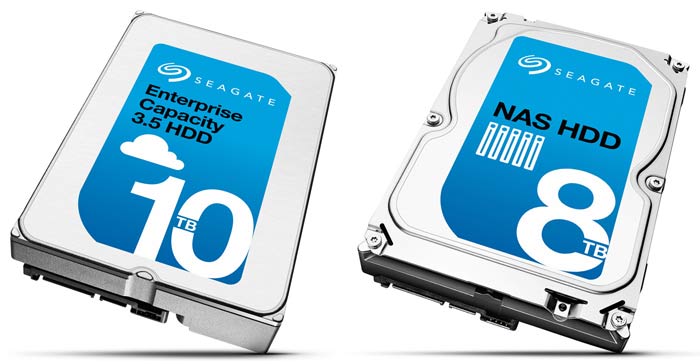 Seagate has launched what it claims to be the "largest NAS optimized drive on the market". Using larger capacity drives helps NAS owners use fewer drives—and subsequently fewer expensive enclosures—to meet their data storage needs. David Chiang, general manager of business division, QNAP Systems, said that his customers "are finding themselves under more pressure than ever as the volume of data they need to deal with continues to increase dramatically," so warmly welcomed the new Seagate 8TB NAS drive launch. QNAP and other leading NAS makers such as ASUSTOR, Synology and Thecus have already qualified the Seagate NAS HDD 8TB for compatibility in a number of their products
The Seagate NAS 8TB HDD is optimised for a diverse set of NAS use cases including backup and disaster recovery, print and file servers, multimedia storage, archiving, file sharing and virtualization. Other capacities of this drive will be available, such as 1, 2, 3, 4, and 6TB. The drive series offers 180TB/year Workload Rate Limit (WRL), an MTBF of 1M hours, and a 3 year limited warranty. Again this product is already shipping to customers but general availability is scheduled for the end of Q1 2016.