QNAP Systems has launched the TVS-871T, with immediate availability. This new NAS solution is said to be the world's first to feature Thunderbolt 2 Turbo vNAS connectivity with 20Gbps bandwidth. The device allows users to enjoy the high transfer speeds of DAS (Direct-attached storage) combined with the convenience of NAS (Network-attached storage). QNAP suggests the TVS-871T, when combined with the Thunderbolt-ready storage expansion enclosures TX-500P or TX-800P, will be of great utility to creative media professionals looking to streamline large 4K video and design workflows.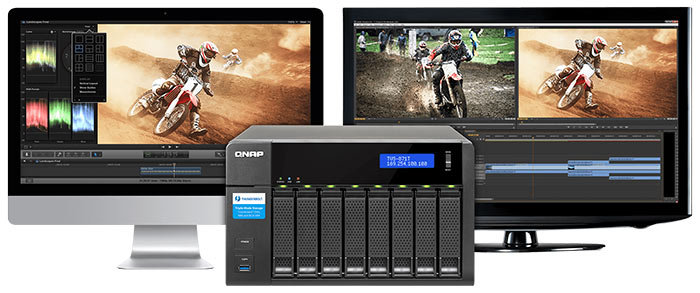 "The TVS-871T tackles the most common bottleneck for 4K workflows: I/O speed and storage." said David Tsao, product manager of QNAP. "It provides unmatched performance for high-resolution file storage and I/O-intensive tasks to increase working productivity focusing more on 4K or 3D workflows."
Buyers can configure the eight bay QNAP TVS-871T with various Haswell processor options including Intel Core i5 and i7 CPUs. Complementing the pair of Thunderbolt 2 ports users have access to dual 10GbE ports which can run alongside the Thunderbolt interface completely independently and with no bandwidth interference. With this array of ports available, PC and Mac users can enjoy the high-speed storage of Thunderbolt DAS plus flexible file sharing of 10GbE networks.

If you need greater storage capacity than the eight bays affords you can expand the addressable storage up to 448TB by attaching a maximum of six QNAP expansion enclosures (TX-500P and TX-800P).
QNAP's latest OS, QTS 4.2, facilitates easy use of the TVS-871T as a powerful NAS for file storage, backup, sharing & synchronization. Thanks to QvPC technology users can simply connect a keyboard, mouse and HDMI display for using the TVS-871T as a PC substitute, "directly accessing stored data, running multiple VMs, surfing the web, enjoying 4K videos with Kodi, monitoring surveillance live feeds from IP cameras, and much more." A host of QNAP developed and third party apps are available.

We are told that the QNAP Thunderbolt 2 Turbo vNAS TVS-871T is available immediately. QNAP lists the likes of SCAN, Dabs, Jigsaw24 and eBuyer (in the UK) as places to buy. However I couldn't find an active listing, nor pricing at the time of writing.
QNAP Thunderbolt 2 Turbo vNAS, key specifications
TVS-871T-i7-16G: Intel Core i7-4790S 3.2 GHz quad-core processor and 16GB DDR3 RAM
TVS-871T-i5-16G: Intel Core i5-4590S 3.0 GHz quad-core processor and 16GB DDR3 RAM
8-bay tower model, AES-NI hardware encryption engine; hot-swappable 3.5"/2.5" SATA 6Gb/s, 3Gb/s HDD or SSD; 2 x Thunderbolt 2 high-speed ports, 3 x USB 3.0; 2 x 10 Gigabit Ethernet port (10GBased-T), 4 x 1 Gigabit Ethernet port; 1 x HDMI port