Synology today announced a total of three new NAS devices. One of the new products, a RackStation, is aimed at enterprises while the other two join the DiskStation range aimed at businesses and home users.
RackStation RC18015xs+
This RackStation is aimed squarely at demanding enterprise users. It is designed for high availability and massive scalability, being able to expand to connect up to 180 drives (when connected to 15 RXD1215sas expansion units). The Synology RackStation RC18015xs+ is said to deliver "secure, reliable, and superior performance storage," and includes next-generation snapshot technology.
The device offers enterprises a headlining performance of over 2,270 MB/s throughput and 355,400 IOPS when using dual 10GbE connections bonded with Link Aggregation. It is powered by a quad-core 3.3GHz Intel Xeon E3-1230 v2 CPU with 8GB of RAM installed (expandable to 32GB).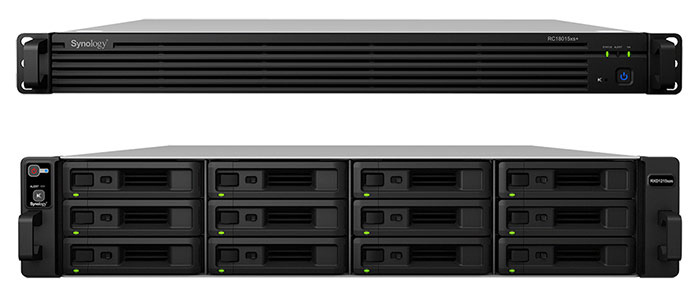 To maximise system uptime the RC18015xs+ and RXD1215sas (pictured above) are equipped with redundant hardware components covering PSUs, modules, cables, fans, and LAN ports. The RC18015xs+ comes with one PCI Express 3.0 x8 slot in addition to its default four Gigabit Ethernet ports. This RackStation measures 44 mm X 430 mm X 480 mm and weighs 7.3Kg. You can read more about this enterprise device on its official product page.
DiskStation DS215+
This DiskStation NAS is the successor to the DS214+. It is an all-in-one 2-bay NAS offering a maximum of 16TB of storage (2 x 8TB HDDs). The updated NAS is said to be 80 per cent faster at reading, and 50 per cent faster at writing, encrypted data. Raw performance figures are over 209 MB/s reading and 139 MB/s writing speed under RAID1 configuration. Its hardware encrypted data performance is over 145 MB/s reading and 71 MB/s writing.
This device is powered by a dual-core 1.4GHz Annapurna AL-212 CPU paired with 1GB of RAM (not expandable). As well as offering dual 1GbE LAN ports the DiskStation DS215+ comes complete with a pair of USB 3.0 ports and an eSATA port. It measures and weighs 1.69Kg.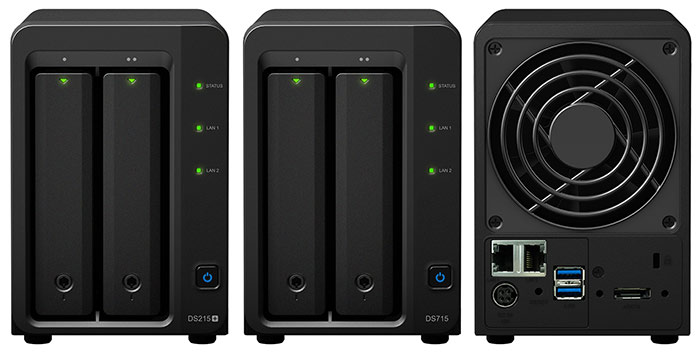 DiskStation DS715
Here Synology has introduced a new compact all-in-one 2-bay NAS with an eye on performance and future proofing. This DiskStation DS715 appears to use the exact same chassis as the DS215+ detailed above. However it offers three key improvements:
a quad-core 1.4 GHz Annapurna Labs Alpine AL-314 CPU combined with 2GB RAM
double the amount of RAM at 2GB
expandability with an expansion unit providing an additional five drive bays.
Thanks to the faster processor/more RAM the performance on offer from the DS715 trumps that of the DS214+, especially with encrypted data. It offers raw performance figures are over 216.1 MB/s reading and 142.5 MB/s writing speed under RAID1 configuration. Its hardware encrypted data performance is over 205.58 MB/s reading and 77.62 MB/s writing. As hinted at above, the rest of the DS715 spec is identical to the DS215+ including built-in ports, size and weight.
Here's a web page comparing and listing the specifications of all three new drives launched today.