Corsair has announced that it has expanded its Force Series LS SSD range with the addition of two drives bringing greater capacities. The previously announced 60GB, 120GB and 240GB Force Series LS SSD are now being joined by drives with capacities of 480GB and 960GB. Corsair's welcome move means that more users will see these drives as suitable upgrade replacements for single 2.5-inch bay systems, which includes the majority of laptops.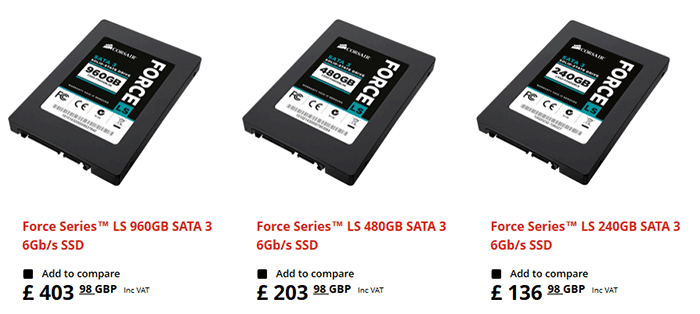 As a reminder of the Corsair Force Series LS SSD specs; these are 7mm high SATA 3 6Gb/s drives aimed at the cost-conscious PC upgrader. The Force LS series can perform as fast as 560MB/s read and 540MB/s write and support TRIM, garbage collection, and S.M.A.R.T commands. Corsair includes a controller equipped with an advanced dynamic and static wear-levelling algorithm to help prevent unnecessary wear on the MLC NAND flash memory the drives rely upon. Previous members of the Force LS range use a Phison controller and there is no info from Corsair to suggest the new larger capacity drives stray from using this component.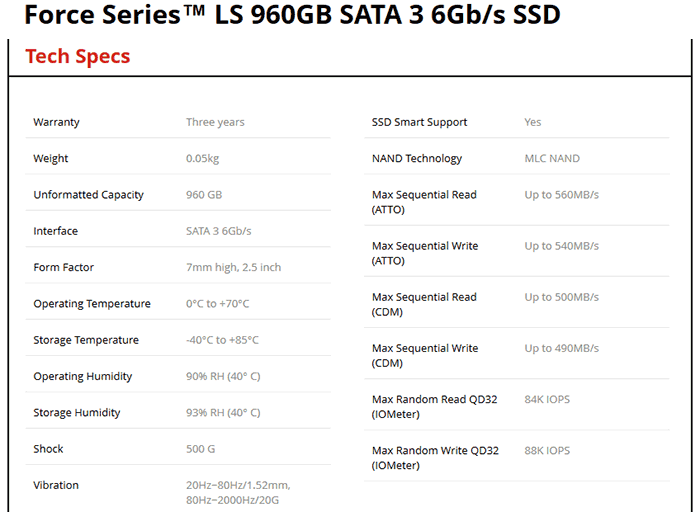 Corsair has set recommended prices for the 480GB and 960GB Force Series LS SSDs at $189.99 and $379.99 respectively. You can see from my Corsair UK screenshot that these prices translate to £203.98 and £403.98 respectively in the UK with 20 per cent VAT and so on. To fit the drive in a 3.5-inch bay you will need to purchase an optional adapter. Buyers of the Force Series LS SSD Line receive Corsair's three year warranty. The Corsair SSD Toolbox software utility is offered as a free download to buyers.