Corsair has launched a new range of SSD drives to appeal to its most budget conscious customers. These are the Force Series LX SSDs and they are initially available in just 128GB and 256GB capacities. However we expect a 512GB member of the range to turn up shortly as Corsair sent us a photo of one in the press-pack.
Despite the budget considerations, Corsair promises that upgraders from HDD based systems will still 'feel the Force', in fact it says these new slim line aluminium encased 7mm form factor 2.5-inch drives should help "bring blazing performance to the masses." If the high price per GB of SSDs have been putting you off until now, you are the kind of person Corsair is targeting with the new Force Series LX SSDs.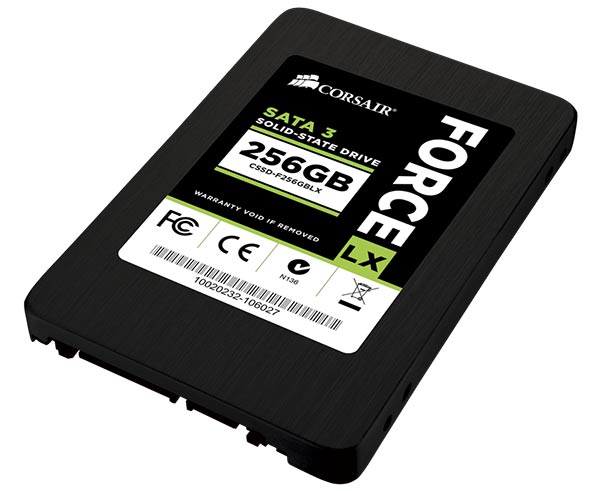 Both the Force Series LX SSDs share the following specifications:
Interface: SATA 3, 6Gb/s (backwards compatible with SATA 2)
Unformatted Capacity: 256 GB (or 128GB)
SSD Technology: MLC, Toggle NAND
DRAM Cache Memory: 256MB
Power Consumption: active 4.6W Max, inactive 0.6W Max
Shock: 40G
TRIM Support: Yes, for Windows 7 or newer
Voltage: 5V ±5%
Form Factor: 7mm high, 2.5 inch
Weight: 0.05kg
Software: Corsair SSD Toolbox disk management
Warranty: Three years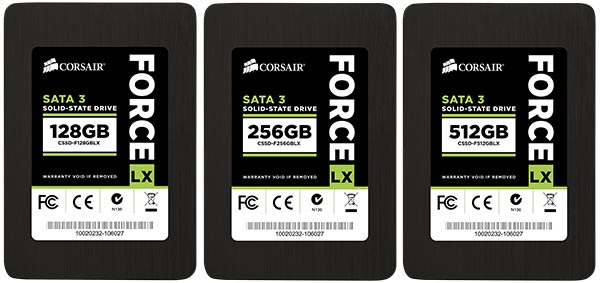 Looking through the info Corsair sent to us about the Force Series LX, I also note that the drives support NCQ and S.M.A.R.T. technologies as well as the above mentioned TRIM. Readers might also be interested to know that the controller used in these drives is the Silicon Motion SSD controller.
The lower capacity drive has half the sequential write performance.
Corsair also provided the following performance stats: Max Sequential Read (ATTO): Up to 560MB/s, Max Sequential Write (ATTO): Up to 300MB/s (or 150MB/s on the 128GB model), MTBF: 1.5 million hours. So opting for the 128GB drive will get you half the sequential write performance – yet will still represent an immediately noticeable and significant leg-up in disk I/O perkiness compared to any traditional laptop HDD.
Corsair supplied us with the following prices for the Force Series LX Drives, which are said to be available immediately from the usual retailers:
Force LX 256GB costs $129.99 (£79.99 + VAT in the UK)
Force LX 128GB costs $74.99 (£49.99 + VAT in the UK)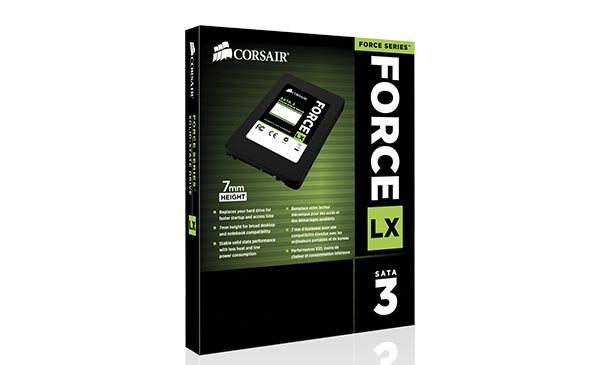 Scan has both new drives listed with the availability dates of 3rd June for the 128GB drive, and 30th May for the 256GB drive.