A next generation optical disc format dubbed the 'Archival Disc' has been created in a collaboration between Sony and Panasonic. The new disc format is aimed at professional users who wish to put data into long-term digital data storage. The first systems are expected to launch in summer 2015 at 300GB but greater storage capacity discs offering 500GB and 1TB are on the Archival Disc roadmap. We first heard of Sony's and Panasonic's agreement last July but today we have some more information and specifications.

Sony says that optical discs are a good choice for storing data on a medium which is dust and water resistant and not sensitive to changes in temperature and humidity and so on. The Japanese tech giant also points out that ODDs have allowed for "inter-generational compatibility," so that users can still read old discs as the formats evolve. However it has been recognised that optical discs need to store much more data in the future so Sony and Panasonic got together to make the Archival Disc standard.
Archival Disc specifications
Disc size (type): 300 GB (write-once)
Optical parameter: Wavelength λ=405 nm (nanometres), Numerical Aperture NA=0.85
Disc structure: Double-sided Disc (3 layers/side), Land and Groove Format
Track pitch: 0.225μm (micrometres)
Data bit length: 79.5nm (nanometres)
Error correction method: Reed-Solomon Code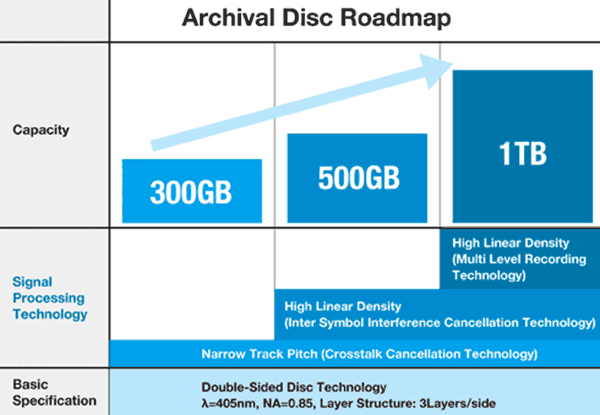 As you can see from the roadmap Sony expects technologies such as Multi-Level Recording and Inter Symbol Interference Cancellation Technology to help boost the Archival Disc capacity up from 300GB at launch to 500GB and onwards to the nice round 1TB figure. However no timescale is given for the roadmap, nor hinted at in the press release.
The amount of data people are using and generating is always growing and the Archival Disc is hoped to answer the need for storing much of this data safely for the longer term. Sony cites demand from the film industry (for 4K movies perhaps) and cloud data centres as spurs to develop the new large capacity optical disc standard.