WD has just announced the My Cloud EX2. This is a new member of the My Cloud network-attached storage (NAS) range that debuted in Q3 last year with the introduction of the My Cloud single disk NAS and My Cloud EX4 four-bay NAS. As you might guess from the 'EX2' suffix this member of the My Cloud family lets you fit two drives into its enclosure.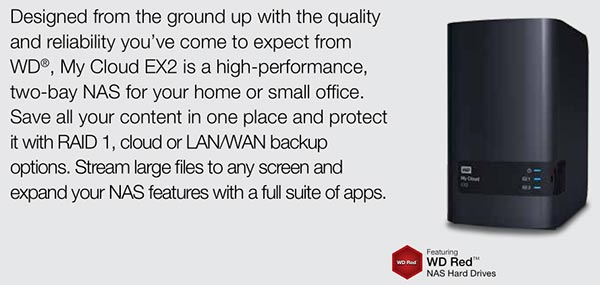 HEXUS reviewed the single-bay My Cloud last October and we concluded that while the Windows apps were basic it was a simple to setup, quiet, nicely designed unit with decent performance for the price. It also supports a good variety of operating systems including iOS and Android mobiles. Of course the single-bay drive doesn't have any RAID options but the EX4 and now this new EX2 do.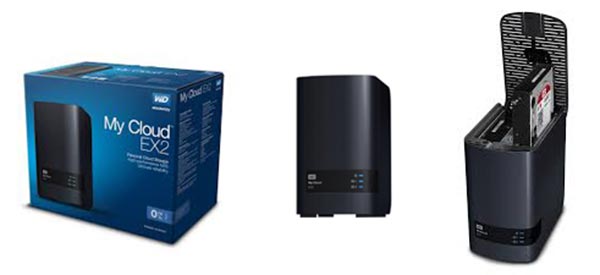 Back on the subject of the new WD My Cloud EX2, this NAS enclosure offers users the choice of using RAID 1 mode to mirror data on the two installed disks. You can buy it pre-populated in capacities of 4TB, 6TB or 8TB. WD also sells the box without any drives for you to populate as you wish.
The My Cloud EX2 has 512MB of memory and a 1.2GHz single-core processor. The processor speed sits pretty squarely between the 650MHz one in the My Cloud and the 2GHz CPU in the My Cloud EX4.
To connect the EX2 to your computer you can utilise its USB 3.0 ports or if you want to use it on a network or as a cloud storage device you can use the Gigabit Ethernet port to connect to your network. Just like with other members of the My Cloud family, if you run out of space on your disks you can plug in a USB hard drive into the back of it and utilise that storage too.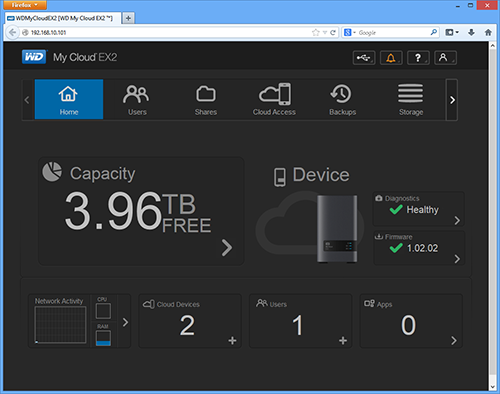 The software on the My Cloud drives is a key differentiator. WD's apps are supposed to make the range easy to use and easy to customise for how you want to use the device. The WD dashboard software and apps allow users to use this NAS to run server apps, create various servers such as an FTP or torrent server, stream media to your devices using DLNA, UPnP or iTunes, do auto/remote backups over LAN/WAN and of course setup your personal cloud with "No monthly fees. No limits."
The WD My Cloud EX2 measures 171 x 99 x 155mm. Unpopulated it weighs 0.8kg but that increases to 2.3kg when used with two 4TB HDDs. A standard two-year warranty is supplied with the product. We don't have pricing details as yet.
For a quick overview of the functionality of the smaller My Cloud single-bay NAS, please check out the video below, published just last week by WD.