Corsair has launched a new series of SSD drives aimed at the entry level market. Initially these drives will be available in just three (low) capacities; 60GB, 120GB, and 240GB. They are all 2.5-inch form factor drives with a height of 7mm and will be available in kits suitable for laptop or desktop upgrades.
The Force LS Series deviates from the Corsair norm of employing the LSI Sandforce SF-2200 controller (e.g. the Force 3, Force GT and Force GS Series) to use the Phison SATA 6Gbps controller instead. These drives use 19nm Toshiba Flash NAND and the performance figures state that users can expect transfer speeds as follows; sequential read speeds of up to 560 MB/s and sequential write speeds of up to 535 MB/s. The information we have doesn't contain any IOPS performance figures unfortunately.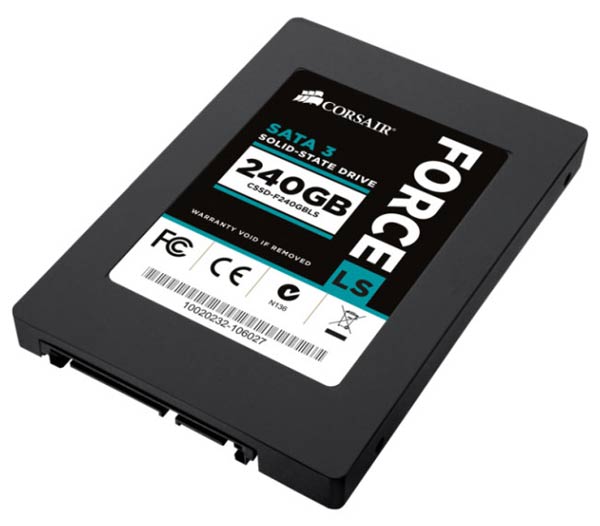 Here's a breakdown of the specifications we have right now:
Sequential read speeds of up to 560 MB/s
Sequential write speeds of up to 535 MB/s
SATA 6Gb/s (SATA 3) connectivity, drives are backwards compatible with earlier SATA standards
High performance Phison controller
Native TRIM support (O/S support required)
RAID Support BGC (Background Garbage Collection)
Increased reliability and quieter operation over standard hard disk drives
Significantly lower power usage than traditional hard drives for increased notebook battery life
2.5-inch form factor for your portable computer needs
3 year warranty
If these are entry level drives the prices should reflect that. The prices we have got for the new Force LS series are as follows: the 60GB will retail for $69.99, 120GB for $109.99 and the 240 GB SSD for $199.99 US. The drives should be available in retail shortly.